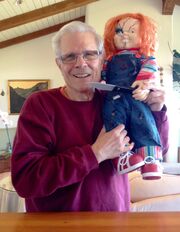 Tom Holland (born July 11, 1943) is an American movie director, screenwriter and actor. He is best known for directing and writing horror genre movies like Psycho II(1983), Fright Night (1985), Child's Play (1988), Thinner (1996) and the television adaptation of The Langoliers (1995).
Early life
Holland, the son of Lee and Tom Holland, was born in Poughkeepsie, New York. Holland attended Ossining Public High School before transferring to Worcester Academy, where he graduated in 1962. He is the father of American actor Josh Holland.
Acting career
Holland trained as an actor at the Actor's Studio under Lee Strasberg. Throughout the 60s and early 70s Holland appeared under the moniker of Tom Fielding in several supporting and guest star roles for both television and film, including A Walk in the Spring Rain alongside Anthony Quinn and Ingrid Bergman. He still appears occasionally in front of the camera in small roles. He played Carl Houge in The Stand miniseries (1994) and Nick Hopewell's controller in The Langoliers miniseries (1995).
Filmography
Television
Gallery
Community content is available under
CC-BY-SA
unless otherwise noted.