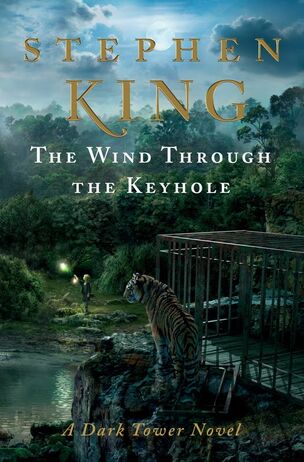 The Wind Through the Keyhole
is the 61st book published by
Stephen King
; it is his 50th novel, and the 43rd under his own name. The novel is part of his
The Dark Tower series
, taking place between the events of
Wizard and Glass
and
Wolves of the Calla
.
A special edition was published in February of 2012 by Grant, with a mass market edition published on 24 April 2012 by Scribner.
Development
On 18 March 2009, USA WEEKEND reported that King had stated, describing an idea for a new short story he recently had: "And then I thought, 'Well, why don't I find three more like this and do a book that would be almost like modern fairy tales?' Then this thing started to add on bits and pieces so I guess it will be a novel." According to King, the idea is a new Dark Tower novel. King said, regarding the Dark Tower series, "It's not really done yet. Those seven books are really sections of one long über-novel." King confirmed this during his TimesTalk event at The TimesCenter in New York City on 10 November 2009, and the next day King's official site posted the information that King "anticipates that it will be a minimum of eight months before he is able to begin writing" Keyhole.
Plot
The book is about "what happened to Roland, Jake, Eddie, Susannah, and Oy between the time they leave the Emerald City (the end of Wizard and Glass) and the time we pick them up again, on the outskirts of Calla Bryn Sturgis (the beginning of Wolves of the Calla). There was a storm, I decided. One of sudden and vicious intensity. The kind to which billy-bumblers like Oy are particularly susceptible. Little by little, a story began to take shape. I saw a line of riders, one of them Roland's old mate, Jamie DeCurry, emerging from clouds of alkali dust thrown by a high wind. I saw a severed head on a fencepost. I saw a swamp full of dangers and terrors." According to King, "the novel is shorter than DT 2-7, but quite a bit longer than the first volume."
Amazon has the book listed at 320 pages.