Jurassic World: Dominion Dominates Fandom Wikis - The Loop
Play Sound

The Stand is an American dark fantasy web television miniseries, based on The Stand by Stephen King. The series premiered on December 17, 2020. There are nine episodes total in the series.
Premise
The Stand is described as "King's apocalyptic vision of a world decimated by plague and embroiled in an elemental struggle between good and evil. The fate of mankind rests on the frail shoulders of the 108-year-old Mother Abagail and a handful of survivors. Their worst nightmares are embodied by a man with a lethal smile and unspeakable powers: Randall Flagg, the nefarious 'Dark Man.'
Cast
Main
Recurring
Guest
Hamish Linklater as Dr. Ellis
Daniel Sunjata as Cobb
Clifton Collins Jr. as Bobby Terry
Uncredited
Bryan Cranston as the President of the United States
Episodes
| Number | Summary | Episode title | Airdate |
| --- | --- | --- | --- |
| 1 | When the "Captain Trips" flu epidemic wipes out more than 99% of the population, the remaining few immune to the disease, including Stu Redman, Frannie Goldsmith, and Harold Lauder, set out in search of other survivors, all the while, experiencing visions of the nurturing Mother Abagail and the menacing figure of The Dark Man. | The End | 12/17/2020 |
| 2 | Musician Larry Underwood is on the cusp of his big break when "Captain Trips" strikes New York. Alone and wandering an empty city, he meets Rita Blakemoor who is also desperate to escape. Meanwhile, an incarcerated Lloyd Henreid comes face-to-face with Randall Flagg, The Dark Man himself, who makes him an enticing offer. | Pocket Savior | 12/24/2020 |
| 3 | Flagg communicates with Nick and Nadine, and sends a message to Abigail and the Committee | Blank Pages | 12/31/2020 |
| 4 | The Boulder Free Zone Committee looks to solidify their leadership and bolster the community with a town hall meeting, but Flagg continues to make inroads as he plots to destroy the newly-forming society from within. | The House of the Dead | 01/07/2021 |
| 5 | In Las Vegas, Dayna tries to get close to Flagg. In Boulder, Stu and Frannie have Harold to dinner. | Fear and Loathing in New Vegas | 01/14/2021 |
| 6 | While all of Boulder fears for Mother Abagail's safety, Stu organizes search parties to ensure her return, presenting an opportunity for Harold and Nadine. In New Vegas, Flagg recruits a dangerous new follower. | The Vigil | 01/21/2021 |
| 7 | After tragedy strikes the Boulder Free Zone, Mother Abagail tasks members of her Committee with a dangerous mission. Meanwhile, Harold and Nadine begin their journey to New Vegas to unite with Flagg and claim their reward. | The Walk | 01/28/2021 |
| 8 | Larry, Glen, and Ray are put on trial in New Vegas, but God has the last word. | The Stand | 02/04/2021 |
| 9 | After seeing both the light and the dark, Frannie makes her stand. | Coda: Frannie in the Well | 02/11/2021 |
Production
Initially, it was hoped that "The Stand" would be made into a theatrical release. For over a decade the project was in "development hell" while various directors (Ben Affleck, Paul Greengrass and David Yates) were attached to the project, only to drop out and move on. Eventually, Josh Boone ("The Fault in Our Stars") took on the project and stayed on when it moved from the big screen back to television. CBS All Access took over and made it into a ten hour mini-series with nine episodes directed by Boone. The production began filming in Vancouver, British Columbia on September 19, 2019 and wrapped on March 11, 2020. Production was finished before the COVID-19 pandemic shut it down.[1] [2] [3]
On August 30, 2020, CBS All Access, ViacomCBS' digital subscription video on-demand and live streaming service, announced its highly anticipated limited event series THE STAND will premiere on Thursday, Dec. 17, 2020. The nine-episode series will drop weekly on Thursdays exclusively for CBS All Access subscribers.
Casting
In June 2019, James Marsden, Amber Heard, Whoopi Goldberg, Greg Kinnear, Odessa Young and Henry Zaga were all in consideration for the roles of Stu Redman, Nadine Cross, Mother Abagail, Glen Bateman, Frannie Goldsmith and Nick Andros, respectively. On August 1 2019, it was announced at the TCA Summer Presentation by CBS All Access the formal casting of Marsden, Heard, Young, and Zaga were all cast in the series. According to news reports, Stephen King has written an entirely different ending to the final chapter of the series that is also different than the book as well as a coda. In addition, the last episodes will be written by King and his son Owen. On September 11, 2019 (how apropo) it was announced that Alexander Skarsgård was cast as Randall Flagg.Also confirmed cast members include Goldberg, Jovan Adepo, Owen Teague, Brad William Henke, and Daniel Sunjata for the roles of Mother Abagail, Larry Underwood, Harold Lauder, Tom Cullen, and Cobb respectively. On August 19, 2020, Mick Garris, the director of the 1994 miniseries adaptation, confirmed that he would have a non-speaking cameo in the new series. On December 3, 2020, showrunner Ben Cavell revealed during the Television Critics Association virtual panel presentation for the series that Stephen King would have a cameo.In August 2020 it was announced that Fiona Dourif and Irene Bedard had been cast as gender-swapped versions of The Rat Man and Ralph Brentner, respectively.
Trivia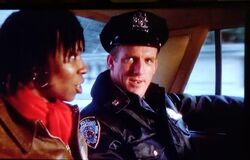 Jamey Sheridan's first movie role was as a New York City Police officer in Whoopi Goldberg's starring vehicle Jumping Jack Flash (1986). They have a short scene together when he arrests her. It's interesting to note that Sheridan would go on to play Randall Flagg (the leader of the Las Vegas faction) in The Stand (1994 Miniseries) while Goldberg would play Mother Abagail (spiritual leader of the Boulder faction) in The Stand (2020 Miniseries).
Amber Heard, Jovan Adepo, Owen Teague, Henry Zaga, Brad William Henke, Nat Wolff, Irene Bedard, Greg Kinnear and Whoopi Goldberg are only credited for their respective episode appearances.
Gallery
Photos
Videos
Links
[4] Cast and crew on reboot were creeped out by real-world similarities to COVID-19.
[5]'The Stand' Boss on Changes to Stephen King's Story - Variety
[6]'The Stand' Cast on Using Stephen King's Novel as Character 'Layers' - Variety
See More