House of the Dragon Trailer - The Loop
Play Sound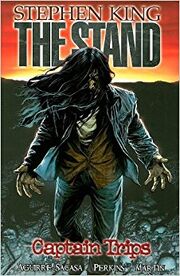 The Stand: Captain Trips is a five-issue comic book series written by Roberto Aguirre-Sacasa, illustrated by Mike Perkins, and published by Marvel Comics from 10 September 2008 to 28 January 2009. The mini-series, which is the first of six such series, is followed by The Stand: American Nightmares.
Issue #1: 10 September 2008
On a secret army base in the Californian desert, something has gone horribly, terribly wrong. Something that will send Charlie Campion and his wife and daughter fleeing in the middle of the night. Unfortunately for the Campion family - and the rest of America - they are unaware that all three of them are carrying a deadly cargo: A virus that will spread from person to person like wildfire, triggering a massive wave of disease and death, prefacing humanity's last stand!
Issue #2: 8 October 2008
The story continues in this issue as the unseen killer, the super-flu Captain Trips, spreads a tide of disease and death across the entire country. Meanwhile, in Atlanta, in the Center for Disease Control, the US government has taken a keen interest in Stuart Redman, who seems to be the only person immune to the Captain Trips infection. They are determined to find out why - with or without Stu's cooperation. And what do the recurring nightmares Stu's been having - about a dark man with red eyes standing in a cornfield - mean? Plus: Frannie Goldsmith and her father! Larry Underwood in New York! And Nick Andros takes a wrong turn in Shoyo, Arkansas!
Issue #3: 12 November 2008
As the superflu known as "Captain Trips" continues to spread across America, the lives of poor souls such as Larry Underwood and Frannie Goldsmith can't help but be affected by it. And as the media begins to catch wind of rumors about chemical warfare and bubonic plague, the actions of the American government begin to devolve, local and global legal systems start to deteriorate, and two wild and crazy outlaws - Lloyd Henreid and Poke Freeman - decide to take advantage of the situation, wreaking a path of destruction through the American southwest.
Issue #4: 2 January 2009
For Larry Underwood, Nick Andros, and Frannie Goldsmith, the deadly superflu has immediate - and devastating - consequences, striking down people near and dear to their hearts. Meanwhile, outlaw Lloyd Henreid gets some grim news from his attorney and General Starkey is relieved of his duties - in the most definitive way possible. And somewhere far away, but getting closer, the Walkin' Dude is making his presence known.
Issue #5: 28 January 2009
The violently contagious superflu Captain Trips has now encompassed the entire country in its deadly embrace and there's no turning back. America is rapidly becoming a country of the sick, the dead, the damned. Against that ever-darkening backdrop, Randall Flagg, the Walking Dude.