House of the Dragon Trailer - The Loop
Play Sound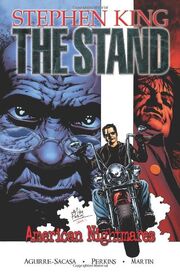 The Stand: American Nightmares is a five-issue comic book series written by Roberto Aguirre-Sacasa, illustrated by Mike Perkins, and published by Marvel Comics from 11 March to 19 August 2009. The mini-series, which is the second of six such series, is preceded by The Stand: Captain Trips and followed by The Stand: Soul Survivors.
Issue #1: 11 March 2009
The deadly super flu Captain Trips has devastated the country and now the few survivors must pick up the pieces and go on. Larry Underwood seeks escape from New York City. Lloyd contemplates an extremely unsavory dinner option in jail, and Stu Redman makes a desperate bid for freedom from his interrogators. Most ominous of all, the strange being called Randall Flagg continues his dread journey across the devastated landscape of America.
Issue #2: 8 April 2009
The dead are still dead and the living are still finding their way through this horribly altered landscape of America. Randall Flagg performs his first act of magic and begins his cross country journey in a souped-up Buick. And then, there's the strangest addition to the cast yet... Donald Merwin Elbert, the Trashcan Man, a pyromaniac who suddenly has no one to curb his unhealthy obsession with blowing things up. All this plus Rita suggests to Larry Underwood that they should start making their way out of New York, perhaps via the Lincoln Tunnel.
Issue #3: 6 May 2009
When Larry Underwood and his new companion Rita Blakemoor decide to escape from New York, they head for the Lincoln Tunnel, little knowing that they are embarking on a nightmare journey that will unleash their deepest, darkest fears and demons, both real and imagined. Meanwhile, Harold and Frannie set off on their own great adventure (on mopeds!), and Stu Redman meets another survivor.
Issue #4: 10 June 2009
The penultimate chapter of the second volume based on Stephen King's horror epic! The survivors of the Captain Trips plague have started to team-up. Stu Redman and Glen Bateman trade origin stories--and horror stories about their mutual nightmares--while Randall Flagg sets out to recruit his first soldier in the ultimate battle between Good and Evil: Lloyd Henreid. But will the starving madman accept the dark man's offer? And either way, will he or his soul survive?
Issue #5: 8 July 2009
It's the Fourth of July, the first holiday post-plague, but none of the survivors are celebrating. While Nick Andros hovers between life and death--and between the influence of Randall Flagg and Mother Abigail--Larry Underwood makes a shocking discovery in his tent... And Stu Redman's path intersects with Harold and Frannie's, but immediately a conflict (that will have enormous ramifications for all our players) erupts among the three.