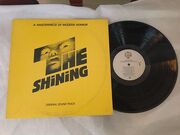 The stylistically modernist art-music chosen by Stanley Kubrick is similar to the repertoire he first explored in 2001: A Space Odyssey. Although the repertoire was selected by Kubrick, the process of matching passages of music to motion picture was left almost entirely at the discretion of music editor Gordon Stainforth, whose work on this film is known for the attention to fine details and remarkably precise synchronization.
The soundtrack album on LP was withdrawn due to problems with licensing of the music. It is only available on vinyl and has become a collector's item. The LP soundtrack omits some pieces heard in the film, and also includes complete versions of pieces of which only fragments are heard in the film.
Upon their arrival at Elstree Studios, Wendy Carlos and Rachel Elkind were shown the first version of the film by Kubrick: "The film was a little on the long side. There were great gobs of scenes that never made it to the film. There was a whole strange and mystical scene in which Jack Nicholson discovers objects that have been arranged in his working space in the ballroom with arrows and things. He walks down and thinks he hears a voice and a ghost throws a ball back to him. None of that made it to the final film. We scored a lot of those. We didn't know what was going to be used for sure". Carlos has said that she was so disillusioned by Kubrick's actions that she vowed never to work with him again. Her own music was released in its near entirety in 2005 as part of her Rediscovering Lost Scores compilation.
Track Listing
The music not included on the soundtrack is as follows:
It's All Forgotten Now by Al Bowlly, performed by Ray Noble and His Orchestra
Masquerade, performed by Jack Hylton and His Orchestra
Kanon (for string orchestra) by Krzysztof Penderecki
Community content is available under
CC-BY-SA
unless otherwise noted.