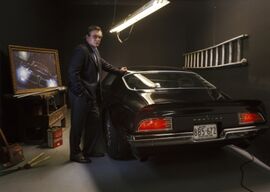 "The Road Virus Heads North" is a 25-page short story originally published in the anthology 999, and later included in King's own 2002 collection Everything's Eventual.
The story concerns horror author Richard Kinnell, who stops at a yardsale on the way home from a writers conference and buys a disturbing painting titled the Road Virus Heads North. As he heads north himself, he discovers that the painting itself is changing, and something else is headed north in his wake.
Adaptation
The story was adapted into the fifth episode of the TNT miniseries Nightmares & Dreamscapes that aired 26 July 2006. The episode was directed by Sergio Mimica-Gezzan, and starred Tom Berenger as Kinnell, Marsha Mason as Aunt Trudy, Susie Porter as Sally Blair-Kinnell, as well as Anita Torrence, Rhondda Findleton, Kym Gyngell.