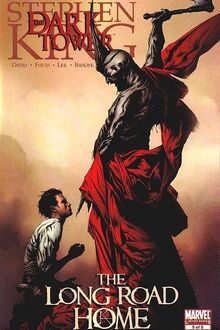 The Long Road Home is a five-issue comic book series written by Robin Furth and Peter David, illustrated by Jae Lee and Richard Isancove, and published by Marvel Comics from March to July of 2008. The mini-series, which is the second of five such series, is the first story about Roland Deschain not actually written by Stephen King; it was preceded by The Gunslinger Born and followed by Treachery.
Issue #1: 5 March 2008
Issue #2: 2 April 2008
Issue #3: 7 May 2008
Issue #4: 4 June 2008
Issue #5: 2 July 2008
Community content is available under
CC-BY-SA
unless otherwise noted.