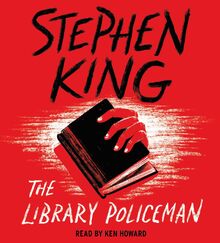 The Library Policeman is a novella published in the book Four Past Midnight by Stephen King.
The story takes place in Junction City, Iowa.
Plot Summary
Sam Peebles is a local businessman asked to give a speech to the Rotary Club. To do research for his speech, Sam goes to the local library to rent books. When there, he realizes that he has not been to a library in many years. He meets the librarian Ardelia Lortz, who warns him to return his books on time or face the wrath of the Library Policeman. Later, Sam's assistant Naomi tells him that Ardelia Lortz is dead and is an old legend in the town. Sam learns her story through the words of her former lover and finds that Ardelia Lortz was a horrible creature who fed on the fear of children. This struggle with a monster throws Sam back into an experience he had when he last visited a library as a child. To defeat the evil Ardelia and survive, Sam must face the horror of his childhood and defeat the Library Policeman forever.
Characters
Audiobook
The audiobook version of The Library Policeman was read by Ken Howard.
Community content is available under
CC-BY-SA
unless otherwise noted.