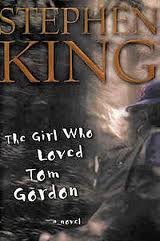 The Girl Who Loved Tom Gordon
is the 41st book published by
Stephen King
; it was his 35th novel, and the 29th under his own name. The book was released by
Scribner
on 6 April
1999
.
The book was later rereleased as a pop-up book.
Summary
The story is set in motion by a family hiking trip, during which Trisha's brother, Pete, and mother constantly squabble about the mother's divorce with her father, as well as other topics. Trisha falls back to avoid listening and is therefore unable to find her family again after she wanders off the trail to take a bathroom break.
She turns off the trail to urinate and then tries to catch up by attempting a shortcut. She then slips and falls down a steep embankment and ends up hopelessly lost, heading deeper into the heart of the forest. She is left with a bottle of water, two Twinkies, a boiled egg, a sandwich, a large bottle of Surge, a poncho, a Game Boy, and a Walkman. Now and then she listens to her Walkman to keep her mood up, either to learn of news of the search for her, or to listen to the baseball game featuring her favorite player, and "heartthrob," Tom Gordon.