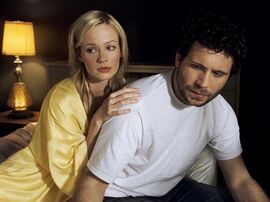 The Fifth Quarter is a short story written by Stephen King. It was originally published, credited to the pseudonym John Swithen , in the April 1972 issue of Cavalier, and later included in King's own 1993 collection Nightmares and Dreamscapes.
Summary
Jerry Tarkanian is a crook looking to avenge the death of his friend Barney, who died at the hands of his own accomplices after taking part in an armored car heist. Unknown to them at the time, Barney managed to get to Tarkanian before he died and told him of the heist and of the map divided amongst his killers that reveals the location of the stolen money.
Adaptation
The story was adapted into the sixth episode of the TNT miniseries Nightmares & Dreamscapes. The episode aired on 26 July 2006, and starred Jeremy Sisto as Willie and Samantha Mathis as Karen.
Audiobook
The audiobook version of this story, in the Nightmares and Dreamscapes collection, is read by Gary Sinise, who played Stu Redman in the TV miniseries adaptation of The Stand and the supporting role of John Coffey's lawyer Burt Hammersmith in the film adaptation of The Green Mile.