Wiki Targeted (Entertainment)
Play Sound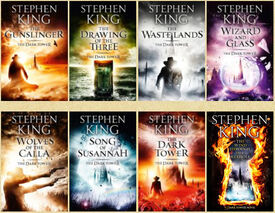 Also see: The Dark Tower Wiki
The Dark Tower is a series of eight novels, as well as numerous ancillary short stories and graphic novels. The series, which King considers his magnum opus, ties together many of his other novels as well, and chronicles the adventures of the gunslinger Roland Deschain on his quest to reach a mysterious place known as The Dark Tower:
"The Little Sisters of Eluria," also written by King and involving Roland, is set before Gunslinger; it was first published in the 1998 anthology Legends: Short Novels by the Masters of Modern Fantasy, and later reprinted in King's own 2002 collection Everything's Eventual.
Related Material
Novels
· Black House (2001):
· Pet Sematary (1983): Gage Creed is remembered by Roberts
· It (1986): Mike Hanlon worked at the Derry Public Library and hired Helen Deepneau, and Ben Hanscom designed the Derry Civic Centre.

· Gerald's Game (1992):

John Tandy

mentions the serial killer Raymond Joubert

· Dolores Claiborne (1992): Dolores Claiborne experiences two telepathic links to Jessie Burlingame.

· Bag of Bones (1998): Mike Noonan meets both Roberts and

Joe Wyzer

.

· The Dark Half (1989): Thaddeus Beaumont's ultimate fate is mentioned.

· Needful Things (1991): Alan Pangborn reappears as the sheriff of Castle Rock.

· Lisey's Story (2006): Andy Clutterbuck reappears as a deputy sheriff, but his appearance places the story in a universe where the events of Needful Things either did not occur or occurred in a way that Andy survived the latter novel's events.
· Desperation (1996): Cynthia Smith is picked up by Steve Ames while hitchhiking crosscountry, and

Ellen Carver

reads the Misery novels by Sheldon.
· The Regulators (1996): The same cast of characters play out a different story, indicating that the two stories occur in closely-related alternate universes.
From a Buick 8 (2002): the truck of the Buick Roadmaster possibly acts as a doorway into All-world, and is the type of car driven by the can-toi.
Under the Dome (2009): Julia Shumway, whose Chester's Mill Democrat article on the death of Sheila Bonsaint is included in "N., appears as a central character.
The Outsider (2018): The antagonist mentions the concept of "ka". It's nature as a shapeshifting creature that feeds on sadness could also link it to other creatures such as Dandelo and Pennywise who feed on fear and do possess shapeshifting abilities. Holly Gibsen from the Bill Hodges trilogy also has a crucial role in the plot. 
Stories
Comics
Beginning in February of 2007, Marvel Comics began running a prequel series written by Robin Furth and Peter David and illustrated by Jae Lee and Richard Isanove:
Supplemental Works