Boba Fett Returns - The Loop
Play Sound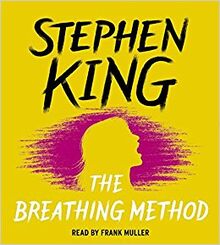 The Breathing Method is a novella that has been published in the collection Different Seasons, alongside Rita Hayworth and the Shawshank Redemption, Apt Pupil, and The Body, and won the British Fantasy Award for Best Short Story.
Plot
The Breathing Method is a story included in Different Seasons that is about a man named David Adley who tells the story of an unusual New York club with an inscription that says "It is the tale, not he who tells it". In the story, Adley tells of a story that one of the members told about a determined young woman whose no-nonsense approach to her pregnancy has uncanny implications.
Potential Implications
The story takes place in a very unusual New York club with no name which also appeared in the short story collected in The Skeleton Crew, The Man Who Would Not Shake Hands, that contains poems and books that don't exist, among other strange things. It is unknown what the reasons for these strange things are, but it has been theorized that The Club is a gateway to a parallel universe, or it could be inside the Dark Tower itself. However, these theories have never been confirmed or deconfirmed. It is possible that these could be obscure, self-published books that only The Club has simply because the only physical copies of them that exist are in The Club.
Characters
"Outer" Story
David Adley

George Waterhouse

Johanssen

George Gregson

Harry Stein

Norman Stett

Peter Andrews

Hugh Beagleman

Robert Carden

Henry Effingham

John Hanrahan

Gerard Tozeman
"Inner" Story
Harriet White

Ella Davidson

Sandra Stansfield

Mrs. Kelly