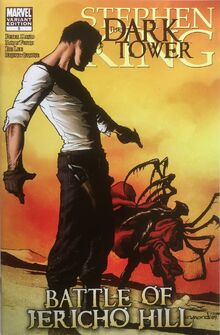 The Battle of Jericho Hill is a five-issue comic book series to be written by Robin Furth and Peter David, illustrated by Jae Lee and Richard Isancove, and published by Marvel Comics from 25 November 2009.
The mini-series, which is the last of five such series, is preceded by The Fall of Gilead and followed (currently) by the Gunslinger.
Issue #1: 25 November 2009
Issue #2: 30 December 2009
Issue #3: 27 January 2010
Issue #4: 24 February 2010
Issue #5: 31 March 2010
Community content is available under
CC-BY-SA
unless otherwise noted.