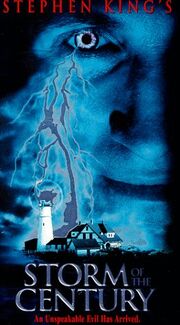 Storm of the Century
is an original TV miniseries written by
Stephen King
, and directed by
Craig R. Baxley
.
The miniseries ran in three two-hour long episodes, on 14 February, 21 February, and 28 February 1999 (266 minutes total).
Book Adaptation
The screenplay for Storm of the Century was published on February 1, 1999 in advent of the television premiere. The book is still in print. The book is 376 pages in length and is published by Pocket Books. ISBN: 067103264X.
Plot Summary
A very powerful blizzard hits the fictional small town of Little Tall Island (also the setting of King's novel Dolores Claiborne) off the coast of Maine. While trying to deal with the storm, the citizens of the town are visited by Andre Linoge (Colm Feore), a menacing stranger who apparently knows all of the townsfolk's darkest secrets (among which are abortion, adultery, growing marijuana, and gay-bashing). After having killed one of the town's residents (Martha Clarendon), Linoge is jailed. Even though he is kept in jail by the town's trusted constable, Mike Anderson (Timothy Daly), Linoge is somehow able to force people to commit suicide or kill others from within his cell. Linoge constantly repeats "Give me what I want and I'll go away" through his victims as well as to his victims. Interestingly, although the adults are terrified of the stranger, all the children are drawn to him and he manages to put them into a forced sleep.
In a dream, the townspeople see themselves walking into the sea two-by-two with the word Croatoan (a reference to the colony of Roanoke) carved on their heads. Eventually, Mike figures out that Linoge is the demon Legion (the former an anagram of the latter) and agrees to organize the townspeople so they can hear his demands.
What Linoge desires is an heir, one of the eight small children that he had incapacitated early on in the miniseries — someone to "carry on his work when he can no longer do it himself", as although Linoge's life spans millennia, he is not immortal. Any of the eight children, he states, will suit him. He threatens to kill everyone, including the children, if they do not give in to his desire and gives them an hour to consider. After he leaves, a strong argument breaks out in the town hall. Mike Anderson wants the townsfolk to unitedly reject Linoge's request, saying it would be better for all of the adults and children to die than to give Linoge a child to raise. He thinks that if they all say no to him in unison he will go away just like a storm. Mike asks "How can they give a child to that man?" Robby, the town manager, asks another question "Even if they manage to survive Linoge, how would they feel knowing they got all eight children killed?" The others argue that the child would not die, and might even develop certain advantages like the ability to use magic, and to live for a very long time. But the biggest argument is that to deny Linoge would mean the death of all the children, and nothing is worth letting eight children die, not even doing the right thing or the grief of the parents whose child would be raised by Linoge. Because of this, the rest of the town (including Mike's wife, Molly Anderson) want to agree to Linoge's demand; they are fearful that the eight children will die, if Linoge is not satisfied, and all the adults will be forced to drown themselves as Linoge has promised. After all, it seems that the village of Roanoke defied Linoge, and they all died, including the children. Over Mike's arguments, the town gives in to Linoge's demand.  A random drawing is organized by Linoge, and after drawing the single black-colored wielding stone, Ralph Anderson (Mike's and Molly's son) is chosen. At that, Linoge removes Ralphie from the town over Mike's and Molly's emotional breakdowns. Mike breaks with the town and his wife Molly because of what they did.
In the film's epilogue, Mike explains (in voiceover narration), that the community of Little Tall, which specializes in keeping secrets, has tried to heal from the traumatic events by attempting to return to a state of normalcy, which only partially succeeds. The epilogue reveals, that Mike, angry that the town and his wife were willing to sacrifice his child to appease pure evil, divorces Molly and leaves the town. He never returned. Molly, who is now remarried to Mike's deputy, who's wife died out of a heart attack because of these events, has been going to therapy, in which she continues to deny what really happened to her son but admits (for reasons she refuses to specify) that Mike was right to leave her. Several townspeople commit in time suicide , because of what happened. Mike, meanwhile, is working as a federal marshal stationed in San Francisco, when he spots nine years later Linoge and Ralphie on a busy street, who has become a teenager in the meantime.  Mike calls out to his son and they stop to look back at him.  Ralphie makes eye-contact with him and bares his teeth to him; they are fangs, showing that Ralphie is no longer human and that he has become like Linoge. Mike is horrified to see this.  However, before Mike has a chance to react to this, he loses them both in the crowd, and they vanish down a long alley.
In a closing voiceover, Mike says he considered calling Molly to tell her about it, but "in the daylight, I know better.". It is implied, that the island and the people there have now become only a memory for him, condemned to disappear in time because of what happened.
Cast
Gallery
Community content is available under
CC-BY-SA
unless otherwise noted.