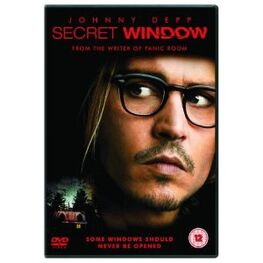 Secret Window is the name of a 2004 film based on Stephen King's novella, "Secret Window, Secret Garden."
It starred Johnny Depp as Mort Rainey, John Tuturro as John Shooter and Maria Bello as his wife, Amy.
Differences between the Novel and Film
The movie is notable for being faithful to the original story in most aspects, but in most ways are very different:
- In the novella, Mort's story is "Sowing Season" while Shooter's in "Secret Window"; in the film, they're reversed.
- In the novella, Mort has a pet cat; in the movie, it's a dog.
- In the ending of the novella, Mort is killed by police. It's then revealed the Shooter was real, having been brought to life by Mort and leaves a note saying he returned to Mississippi; in the film, Mort kills Amy and Ted, he recovers from his writer's block but has become the town pariah, and is the main suspect in Ted and Amy's disappearance, and it's implied he hid the bodies in a field of corn.
Cast
Johnny Depp as Morton "Mort" Rainey / John Shooter
John Turturro as "John Shooter"
Maria Bello as Amy Rainey
Timothy Hutton as Ted "Teddy" Milner
Len Cariou as Sheriff Dave Newsome
Charles S. Dutton as Private Investigator Ken Karsch
John Dunn Hill as Tom Greenleaf
Chico as himself
Community content is available under
CC-BY-SA
unless otherwise noted.