Wiki Targeted (Entertainment)
Play Sound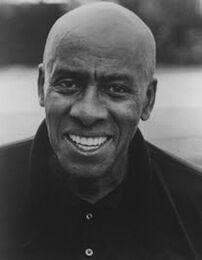 Benjamin Sherman Crothers (May 23, 1910– November 22, 1986) known as Scatman Crothers, was an American actor, singer, dancer and musician known for his work as Louie the Garbage Man on the TV show Chico and the Man and as Dick Hallorann in Stanley Kubrick's The Shining (1980), the latter of which earned him the Saturn Award for Best Supporting Actor.
He was also a prolific voiceover artist, and provided the voices of Meadowlark Lemon in the Harlem Globetrotters animated TV series, Jazz the Autobot in The Transformers television series and The Transformers: The Movie (1986), the title character in Hong Kong Phooey and Scat Cat in the animated Disney film The Aristocats (1972).
Career
Crothers started his musical career as a 15-year-old drummer in a speakeasy band in his home town of Terre Haute. He played a variety of instruments, including drums and guitar, on jazz club band circuits in his early days as an entertainer. Among the people for whom he performed was the notorious gangster, Al Capone. Crothers formed his own band in the 1930s and traveled to Oakland, California, with the band in 1948. He played piano at the Port O' Call and Walt's 405 Club. He also appeared in a 1950 episode of The Phil Harris-Alice Faye Show performing "Chattanoogie Shoe Shine Boy" with Harris, who introduced him as Scatman Roth. He left Oakland to stay in Los Angeles in 1952.
Film
Crothers made his official debut in the movie Meet Me at the Fair (1953). He worked in both movies and television, often taking bit parts. He also made musical shorts and played drums with Slim Gaillard in the mid-1940s. Crothers then landed a major supporting role in the 1970 animated film The Aristocats from Walt Disney Productions, providing the voice of "Scat Cat". He also performed the film's theme song "Ev'rybody Wants to be a Cat". Good friends with Jack Nicholson, he appeared in four of his films: The King of Marvin Gardens (1972), The Fortune, and as Dick Halloran in The Shining (1980).
Death
A heavy smoker most of his life, Crothers was diagnosed with lung cancer in late 1985, but he kept his condition a secret in order to continue working. The cancer eventually spread to his esophagus by mid 1986, rendering him unable to speak which more or less ended his career. He died of pneumonia on November 22, 1986, at his home in Van Nuys, Los Angeles, California at age 76.