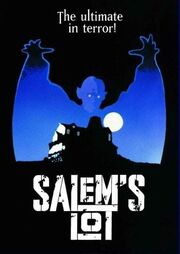 Salem's Lot (also known as Salem's Lot: The Movie, Salem's Lot: The Miniseries and Blood Thirst) is a 1979 American television adaptation of 'Salem's Lot by Stephen King. Directed by Tobe Hooper and starring David Soul and James Mason, the plot revolves around a writer returning to his hometown and discovers the citizens are turning into vampires. In 2004 TNT would release a remake
Production
After Warner Bros. acquired the rights to 'Salem's Lot, the studio sought to turn the 400-page novel by Stephen King into a feature film, while still remaining faithful to the source material. Producer Stirling Silliphant, screenwriter Robert Getchell, and writer/director Larry Cohen all contributed screenplays but none proved satisfactory. "It was a mess," Stephen King said. "Every director in Hollywood who's ever been involved with horror wanted to do it, but nobody could come up with a script."
The project was eventually turned over to Warner Bros. Television and producer Richard Kobritz decided Salem's Lot would work better as a television miniseries than as a feature film format due the novel's length. Television writer Paul Monash was contracted to write the teleplay, having previously produced the film adaptation of Stephen King's novel Carrie A screening of The Texas Chain Saw Massacre (1974), resulted in Richard Kobritz selecting Tobe Hooper as director. With a budget of $4 million, principal photography began on July 10, 1979, in the Northern California town of Ferndale, California, with some scenes filmed at the Burbank studios. Filming officially wrapped on August 29, 1979.
The producers were unable to find a house that looked like the Marsten House in Ferndale, California (where the bulk of the mini-series was filmed). A much smaller house was located on a hill that overlooked the town - like described in the novel. The family that lived in the real property were paid $20,000 to move out during filming, and were guaranteed all the timber used in construction afterwards. The producers spent $100,000 (total) to build the façade. See the Gallery for photos of the façade and the actual house as it looks presently.
Adaptation from source material
Although generally the same story, the television adaptation takes several liberties with King's source novel. Many characters have been combined or merely deleted, as have certain subplots, and the character of Barlow is totally different in the miniseries from how he is in the novel. However, Stephen King praised Paul Monash's screenplay and commented "Monash has succeeded in combining the characters a lot, and it works."
However, much of the violence and graphic scenes in the novel had to be omitted to meet broadcast restrictions. Producer Richard Kobritz, who took a strong creative interest in his films, also added several changes to Monash's script including turning the head vampire Kurt Barlow from a cultured human-looking villain into a speechless demonic-looking monster. Kobritz explained:
"We went back to the old German Nosferatu concept where he is the essence of evil, and not anything romantic or smarmy, or, you know, the rouge-cheeked, widow-peaked Dracula. I wanted nothing suave or sexual, because I just didn't think it'd work; we've seen too much of it. The other thing we did with the character which I think is an improvement is that Barlow does not speak. When he's killed at the end, he obviously emits sounds, but it's not even a full line of dialogue, in contrast to the book and the first draft of the screenplay. I just thought it would be suicidal on our part to have a vampire that talks. What kind of voice do you put behind a vampire? You can't do Bela Lugosi, or you're going to get a laugh. You can't do Regan in The Exorcist, or you're going to get something that's unintelligible, and besides, you've been there before. That's why I think the James Mason role of Straker became more important."

Other changes by Kobritz included having the final confrontation with Barlow in the cellar of the Marsten House whereas in the book it is in the basement of Eva Miller's boarding house, a concept Kobritz felt "Just doesn't work. I mean, from a point of sheer construction in a well-written screenplay, he's got to reside in the inside of the Marsten House. He's a major star in the picture - the third or fourth most important character - he's got to be there. It may have worked in the book, but not in the movie." Susan's death was also moved to the climax, to give her death "more impact and provide the film with a snap ending."
Release
Salem's Lot originally aired on CBS on November 17 and 24 of 1979 in two 2-hour segments. The following year, CBS aired an edited version of the miniseries in one 3-hour segment. NAL/Signet Books also published a paperback tie-in of the novel which included "8 pages of blood-chilling photos".
Theatrical cut
A 112-minute edit of the miniseries was subsequently given a theatrical release in Europe. The theatrical cut of Salem's Lot features different musical cues, alternative scenes, and deletes many scenes, including the prologue and epilogue with Ben Mears and Mark Petrie in Guatemala as well as Susan's fate.
Home release
The theatrical cut also aired on cable television and was titled Salem's Lot: The Movie for its VHS release. It was later released alongside A Return to Salem's Lot on VHS as a "Movie Double Feature". Warner Bros. eventually released the full-length miniseries on to VHS, as well as on [DVD]. The DVD release includes all of the extra scenes from the theatrical version, except the alternative scene of Larry Crockett putting Cully Sawyer's gun in his mouth. A Blu-ray version was released on September 20, 2016 alongside other Stephen King adaptations like Cat's Eye and It.
Cast
Gallery
Community content is available under
CC-BY-SA
unless otherwise noted.