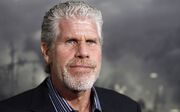 Ronald N. "Ron" Perlman (born April 13, 1950) is an American actor and voice actor. He is best known for his roles as Clay Morrow in the television series Sons of Anarchy, Vincent in the television series Beauty and the Beast (for which he won a Golden Globe), and as the comic book character Hellboy in both 2004's Hellboy and its 2008 sequel Hellboy II: The Golden Army. He also portrayed Collie Entragian in the 2006 television adaptation of Desperation and Captain Soames in Sleepwalkers (1992).
Perlman is also well known as a frequent collaborator of Hellboy director Guillermo del Toro, also having roles in his films Cronos, Blade II, and Pacific Rim . He is also known for his voice-over work as the narrator of the post-apocalyptic game series Fallout, Clayface in Batman: The Animated Series, Deathstroke in the animated series Teen Titans, The Lich in Adventure Time, The Stabbington Brothers in Disney's animated film Tangled, and as the narrator of the television series 1000 Ways to Die.
Community content is available under
CC-BY-SA
unless otherwise noted.