House of the Dragon Trailer - The Loop
Play Sound
Rachel Spies is a minor character in Carrie. She is a student at Ewen High School in Chamberlain, Maine.
Novel
In the novel, Rachel is a member of The Mortimer Snerds.
She bullies Carrie White by throwing tampons at her, when she received her first period in the shower.
It is unknown if she survived the Prom.
1976 Film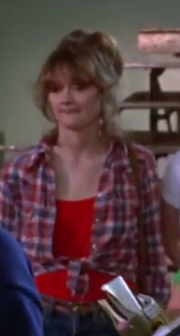 Rachel Spies is renamed Alice Litten in the 1976 film and she portrayed by Cynthia Schuler Larsen.
She is first seen playing volleyball. then she along with Rhonda Wilson, Trudy Bourne and Ruth Gogan is seen leaving the showers, naked during the opening. Alice was laughing when Carrie White had her period. She was in Miss Collins's detention next to Mary Blake. Alice was present at the Prom. She was surprised to see Carrie there and next to Frieda Jason, she was sitting with her boyfriend, Julia McDermitt, and her date. She was also seen clapping when Carrie won Prom Queen standing next to Trudy. During The Black Prom, Alice is seen running around with her boyfriend trying to find a way out.
She is last seen running with her boyfriend towards an exit but backing up because they saw Carrie walking towards it.
Trivia
Carrie 2002
Rachel Spies appeared in the TV film Carrie and she was a part of the shower incident, causing her to receive a detention from Miss Desjardin. She attended the prom with Jessica Upshaw and Donna and Fern Thibodeau. When the prank took place Rachel was shocked along with the rest of the students but they all burst out into laughter. She was presumably electrocuted or burned.
Appearances
Gallery
Alice Litten