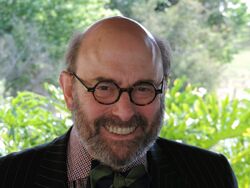 Peter Francis Straub (born March 2, 1943) is an American novelist and poet. His horror fiction has received numerous literary honors such as the Bram Stoker Award, World Fantasy Award, and International Horror Guild Award. He is married with two (grown) children.
Early life
Straub was born in Milwaukee, Wisconsin, the son of Elvena and Gordon Anthony Straub. At the age of seven, Straub was struck by a car, sustaining serious injuries. He was hospitalized for several months, and temporarily used a wheelchair after being released until he had re-learned how to walk. Straub has said that the accident made him prematurely aware of his own mortality. Straub read voraciously from an early age, but his literary interests did not please his parents; his father hoped that he would grow up to be a professional athlete, while his mother wanted him to be a Lutheran minister. He attended Milwaukee Country Day School on a scholarship, and, during his time there, began writing.
Straub earned an honors B.A. in English at the University of Wisconsin–Madison in 1965, and an MA at Columbia University a year later. He briefly taught English at Milwaukee Country Day, then moved to Dublin, Ireland, in 1969 to work on a Ph.D., and to start writing professionally.
Career
After mixed success with two attempts at literary mainstream novels in the mid-1970s (Marriages and Under Venus), Straub dabbled in the supernatural for the first time with Julia (1975). He then wrote If You Could See Me Now (1977), and came to widespread public attention with his fifth novel, Ghost Story (1979), which was a critical success and was later loosely adapted into a 1981 film starring Fred Astaire. Several horror novels followed, with growing success, including The Talisman and Black House, two fantasy-horror collaborations with Straub's long-time friend and fellow author Stephen King.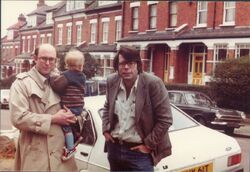 After a dry-spell, Straub re-emerged in 1988 with Koko, a non-supernatural (though horrific) Vietnam War novel. Koko was followed in the early '90s by the related novels Mystery and The Throat, which together with Koko make up the "Blue Rose Trilogy". These complex and intertwined novels extended Straub's explorations into metafiction and unreliable narrators.
The ambitious mainstream thriller The Hellfire Club was published in 1996; the novel applied the lessons learned in the Blue Rose period to a more overtly gothic plot. Mr. X followed in 1999 with a doppelgänger theme. In 2001, Straub and King reteamed for Black House, a loose sequel to The Talisman tying that book in with King's Dark Tower Series. 2003 saw the publication of a new Straub novel Lost Boy, Lost Girl followed by the related In the Night Room (2004). Both of these novels won Stoker awards.
Straub has also published several books of poetry. My Life in Pictures appeared in 1971 as part of a series of six poetry pamphlets Straub published with his friend Thomas Tessier under the Seafront Press imprint while living in Dublin. In 1972 the more substantial chapbook Ishmael was published by Turret Books in London. Straub's third book of poetry, Open Air, appeared later that same year from Irish University Press. The collection Leeson Park and Belsize Square: Poems 1970 – 1975 was published by Underwood-Miller in October 1983. This collection reprints much of Ishmael along with previously uncollected poems, but none of the poems from Open Air.
External links
Community content is available under
CC-BY-SA
unless otherwise noted.