House of the Dragon Trailer - The Loop
Play Sound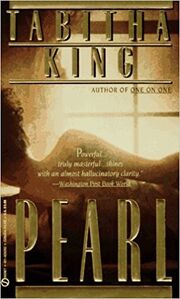 Pearl is the fourth novel published by Tabitha King, and the third to take place in the town of Nodd's Ridge, Maine.
The book was released in 1988.
Summary
When Pearl Dickinson arrives in Nodd's Ridge, the townsfolk assume she has come to wrap up the final affairs of her late uncle before disappearing again. No one expected her to stay, much less to become a well-liked figure in a town where nothing much ever changes.  
But Pearl is determined, hard-working, warm and wise, quickly attracting the romantic attentions of two very different men: stolid hometown fixture Reuben Styles and mercurial, troubled summer resident David Christopher. David and Reuben have their own complicated and painful history with one another, and Pearl soon realizes she must choose one or risk destroying both.
More importantly, she discovers that almost everyone in Nodd's Ridge is connected by a web of jealousy and bitterness, love and blood, scandal and secrecy, and even murder. Pearl is slowly being drawn into these intertwining stories. The price of healing these old wounds will be a series of painful revelations... but the reward could be love.
Connections to Stephen King
Pearl hails from Key West, Florida, where she learned to cook from Dick Hallorann, the cook from the Overlook Hotel in The Shining. This is the winter job to which Dick is headed at the beginning of the novel.