Wiki Targeted (Entertainment)
Play Sound
Article Stub
This article is a stub, an article too short to provide more than rudimentary information about a subject. Please help the Stephen King Wiki by expanding it.
This article pertains to the character as he appears on television. You may be looking for his literary counterpart.
Oliver H. Dinsmore is a resident of Chester's Mill.
After the death of Freddy Denton, Dinsmore joined a search party with Roger, Jim Rennie, and Dale Barbara to find Paul Randolph in the Black Ridge Woods; Dinsmore later rushed Roger back into town after Killian was shot in the leg by Randolph.
Dinsmore was later confined with dozens of other townspeople to the waiting room of the Chester's Mill Clinic after an outbreak of meningitis.
Death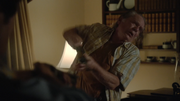 Infuriated with Big Jim apologizing to Junior for not telling the whole truth about the argument he had with his wife which led to her suicide, Ollie aims the gun at Big Jim preparing to kill him, but Junior was too quick and shot Ollie instead, killing him instantly, saving Big Jim's life before he forgave him and returned his father's pistol.
Appearances