Jurassic World: Dominion Dominates Fandom Wikis - The Loop
Play Sound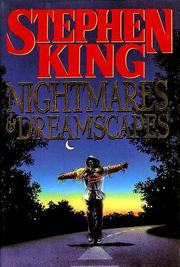 Nightmares & Dreamscapes is the 33rd book published by Stephen King, and his fifth collection of short stories. The book was released by Viking on 29 September 1993, and collects twenty short stories, one teleplay, one poem, and one nonfiction essay.
Information
Technical
832 Pages
Dedication
In memory of Thomas Williams, 1926-1990 : poet, novelist, and great American storyteller.
Introduction
In the introduction (aka "Myth, Belief, Faith, and Ripley's Believe it or Not!") King details his childhood when he was overly imaginative, easy to believe, and fond of the paperback serial "Ripley's Believe it or Not!". King reflects on his adult life as well, and the nature of his popularity and drive. He also divulges his method of coming up with short stories, reveals the recent difficulty of creating them, and muses on the suspension of belief necessary when immersing into his fiction.
Contents
Title
Originally Published in
Date
Dolan's Cadillac

Castle Rock Magazine

(February - June Issue)
1985

A nameless narrator seeks revenge for his wife's death by the hands of a crime-boss named Dolan. He sets up a physically straining and elaborate trap in the Nevada desert, determined to bury the killer alive in his own silver Cadillac.

The End of the Whole Mess
Omni Magazine (October Issue)
1986

An author writes down the cause and history of an unknown tragedy which limits his time alive. The emergency memoirs chronicle the exploits of his genius younger brother, the biggest of which an attempt to change the mean spirited nature of the human race.

Suffer the Little Children
Cavalier Magazine (February Issue)
1972

An elderly elementary school teacher is haunted by one of her students after they begin to show hints of an evil paranormal nature. After more children show signs and begin to torment her, she's propelled to take matters into her own hands.

The Night Flier
Prime Evil Anthology
1988

A reporter for a paranormal tabloid seeks out The Night Flier, a man in a cloak who flies via personal plane and commits gruesome murders near the airports. Eye witness accounts liken the methods to those from traditional vampire tales.

Popsy
Masques II Anthology
1987

A man tries to erase his debt to shady criminals by abducting children for unknown purposes. After he kidnaps a pale boy, he's chased by an unseen terror the boy lovingly refers to as his "Popsy".

It Grows On You
Marshroots Magazine (Fall Issue)
1973

Citizens in the town of Castle Rock muse about an ugly locally known house. Folklore suggests strange circumstances which take place inside, and the structure seemingly taking on a life of its own.

Chattery Teeth
Cemetery Dance Magazine (Fall Issue)
1992

A man with past hitchhiker trouble stops by a road-side convenience store, and after noticing and buying a remarkable set of chattery novelty teeth, unwillingly picks one up. After the shady individual brings trouble, the teeth seem to come alive.

Dedication
Night Vision 5 Anthology
1988

A black hotel maid spins her tale to a co-worker friend on the eve of her son's first published novel. Her story includes domestic abuse, black magic spells, and a possible reincarnation of a famous writer into her child.

The Moving Finger
The Magazine of Fantasy & Science Fiction (December Issue)
1990

A trivia show addict is haunted by a finger which comes up through his bathroom sink drain and taps on the porcelain. His sanity is eventually broken, and he begins a homicidal assault on the mysterious being that lurks beneath the pipes.

Sneakers
Night vision 5 Anthology
1988

A music producer lands a big opportunity that could make him a huge success. The good comes with bad when he starts seeing see-through sneakers under the bathroom stall, and who they're connected to poses a very personal danger.

You Know They Got a Hell of a Band
Shock Rock Anthology
1992

A married couple get lost trying to find the quickest route to their vacation destination, and end up in the eerily perfect town of "Rock and Roll Heaven". They soon realize it's filled with dead rock and roll legends who are determined to gather an audience.

Home Delivery
Book of the Dead Anthology
1989

A pregnant woman and her isolated island town fight against a zombie outbreak which has taken over the rest of the world. After she comes face to face with her husband and the village with its dead, she's hopeful and determined to give birth.

Rainy Season
Midnight Graffiti Magazine (Spring Issue)
1989

A couple come into a dreary town and are warned to leave, because they arrive in the season where it rains toads. They think of the warning as madness and stay, eventually falling victim to the town's annual ritual.

My Pretty Pony
Limited Edition Coffee-Table Book
1989

A young boy remembers a touching talk with his beloved grandfather. This was originally a flashback in a scrapped full-length novel under King's pseudonym, in which a hardened and brutal criminal reflects on his childhood.

Sorry, Right Number
Previously Unpublished
N/A

In this screenplay, rhe wife of a horror novelist receives a distressing phone call. After unsuccessfully seeking out the caller, her husband has a fatal heart attack. Years later she fulfills a predestination paradox.

The Ten O'Clock People
Previously Unpublished
N/A

After witnessing a bat-headed creature, an irregular smoker is recruited into a secret society. They all share the same smoking habits, somehow allowing them to perceive certain people as monsters while others do not.

Crouch End
New Tales of the Cthulhu Mythos Anthology
1980

An American woman wanders into a British police station to delivery a manic recollection of her strange experiences in their town of Crouch End. While the Police Officers process her file, they discuss the cause, one believing it to be dimensional spillage.

The House on Maple Street
Previously Unpublished
N/A

A trio of children discover their house is slowly transforming into a spaceship, set to takeoff at a specific time. They take advantage of this and plan to trap their abusive step father and free their mother of emotional trauma.

The Fifth Quarter
Cavilier Magazine (April Issue)
1972

A criminal attempts to avenge his friend's death, who was betrayed by his own accomplices after a bank robbery deal. The details of the deal involve four quarters of a map which lead to the stolen money.

The Doctor's Case
The New Adventures of Sherlock Holmes Anthology
1987

Watson reminisces of the only case he solved before the famous Sherlock Holmes. This rare case involved a sleazy tycoon and a mansion full of Holmes' allergen weakness, household cats.

Umney's Last Case
Previously Unpublished
N/A

A detective is shaken when his comfortable lifestyle sports sudden changes. This is revealed to be the work of an author, who entered the world of his own written universe. In an act of escapism, he tries to steal the life of his own character.

Head Down
The New Yorker Magazine (April 16th Issue)
1990

An essay that follows the Little League baseball team of Bangor West in King's local state of Maine. It follows their games, struggles, and philosophies with detail up until their remarkable victory.

Brooklyn August
Io Magazine (Issue 10)
1971

A brief poem of a nostalgic nature about the glory days of American baseball and the heyday of the Los Angeles Dodgers.

The Beggar and the Diamond
Previously Unpublished
N/A

A Christian version of a Hindu parable. When an archangel witnesses a sad old homeless man, he puts God into question on why he'd allow it. God replies by giving a lesson on the fate he constructed.
Notes
After discussing how some readers skip the notes section in books, King delivers a passionate warning for those who went straight to the end of the novel. Notes for several of the stories offer commentary, giving inspiration sources and other information.
Audiobook Release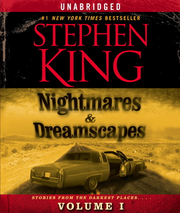 On February 17th, 2009 a three volume audiobook containing narrations of every story was released onto Audible.com and several other audio sites. Physical copies are to be released sporadically onto CD format up until June 2009 (in order to promote the film adaptation of Dolan's Cadillac which is featured on the covers). The voice cast includes Stephen King (Introduction, It Grows On You, Home Delivery, Head Down, Notes), Tabitha King (The House on Maple Street), Rob Lowe (Dolan's Cadillac), Matthew Broderick (The End of the Whole Mess), Whoopi Goldberg (Suffer the Little Children), Frank Muller (The Night Flier), Joe Montegna (Popsy), Kathy Bates (Chattery Teeth), Lindsay Crouse (Dedication), Eve Beglarian (The Moving Finger), David Cronenburg (Sneakers), Grace Slick (You Know They Got a Hell of a Band), Yeardley Smith (Rainy Season), Jerry Garcia (My Pretty Pony), Joe Morton (The 10 O'Clock People), Tim Curry (Crouch End, The Doctor's Case), Gary Sinise (The Fifth Quarter), Robert B. Parker (Umney's Last Case), Stephen J. Gould (Brooklyn August), Domenic Cuskern (The Beggar and the Diamond), and a full cast acting out Sorry, Right Number.
Adaptations
Sorry, Right Number was adapted into an episode of the anthology series Tales From the Darkside, and The Moving Finger into an episode of Monsters (both of which pseudo spinoffs of King's film Creepshow). In 1997 The Night Flier was adapted into a straight to video film directed by Mark Pavia, who plans to create a sequel featuring original story continuation. Planned for 2009 is a feature film adaptation of Dolan's cadillac directed by Jeff Beesley and written by Richard Dooling. A spanish animated version of Home Delivery was directed by Elio Quiroga and produced by acclaimed film-maker Guillermo Del Toro. Home Delivery as well as Rainy Season were adapted into the Stephen King comic anthology The Secretary of Dreams by artist Glenn Chadbourne. The former a heavily illustrated text, the latter a full comic. Several "Dollar Baby" short films were made from this collection, including Suffer the Little Children, Popsy, Rainy Season, My Pretty Pony, Sorry, Right Number, and Umney's Last Case.
Television Series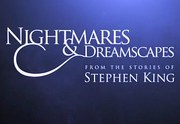 In 2005 the television station TNT created an anthology series dedicated to King's short stories. Nightmares & Dreamscapes: From the Stories of Stephen King aired eight episodes over a four week period, including adaptations of "Crouch End," "Umney's Last Case," "The End of the Whole Mess," "The Fifth Quarter," and "You Know They Got a Hell of a Band." Although named specifically after this collection, three adaptations were of stories from Night Shift and Everything's Eventual. Each episode had different directors and writers, adding various styles and varying levels of direct translation. Stars included names such as Tom Berenger, William H. Macy, Kim Delaney, Ron Livingston, William Hurt and Samantha Mathis. The title theme included characters from every story emulating events inside King's real-life mansion.
Cover Gallery
External Links