House of the Dragon Trailer - The Loop
Play Sound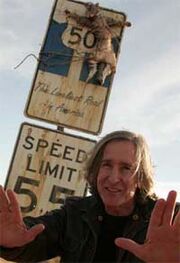 Mick Garris (born December 4, 1951) is a United States filmmaker and screenwriter.
Life and career
Garris was born in Santa Monica, California. He is known for his adaptations of Stephen King stories. Garris won a 1986 Edgar Award for an episode he wrote for the Steven Spielberg-produced television series Amazing Stories. Garris directed the FEARnet episode Post Mortem. He contributes to the web series Trailers From Hell. Garris was also the co-screenwriter and executive producer of the Disney movie Hocus Pocus. Garris most recently directed the miniseries adaptation of Stephen King's novel Bag of Bones and the documentary film Pure in Heart: The Life and Legacy of Lon Chaney Jr., about the life and work of legendary actor Lon Chaney Jr. Garris will also appear in cameo roles in his productions. He is married to actress Cynthia Garris who played Susan Stern in The Stand (miniseries) and Lorraine Massey (Woman in Room 217) in the 1997 adaptation of The Shining (miniseries).
As of 2015, he is also a member of the board of advisers for the Hollywood Horror Museum.
Awards
Garris received the Lifetime Achievement Award at the 2006 New York City Horror Film Festival.
Selected filmography
As writer
*batteries not included

(1987)

Critters 2: The Main Course

(1988)

The Fly II

(1989)

Hocus Pocus

(1993)
Riding the Bullet (film) (2004)
Masters of Horror - "Haeckel's Tale" (2005)
Masters of Horror - "Chocolate" (2005)
Bag of Bones (miniseries) (2011)