Article Stub
This article is a stub, an article too short to provide more than rudimentary information about a subject. Please help the Stephen King Wiki by expanding it.
Maxine Seagrave is a business associate of Jim Rennie and Dale Barbara, and a resident of West Lake.
Death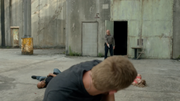 Maxine takes Big Jim Rennie and Barbie hostage. She confronts Big Jim about murdering her mother, Agatha. Barbie talks back by accusing her of shooting Julia. After Barbie uses his alarm to escape, Big Jim shoots and kill both Otto and Maxine. Thankfully for Big Jim, Barbie attacks Big Jim right before Linda Esquivel (Big Jim's personal sheriff) arrives on the scene. Big Jim furthers Linda's skepticism of Barbie, by accusing Barbie of the murders of Otto and Maxine.
Appearances
Community content is available under
CC-BY-SA
unless otherwise noted.