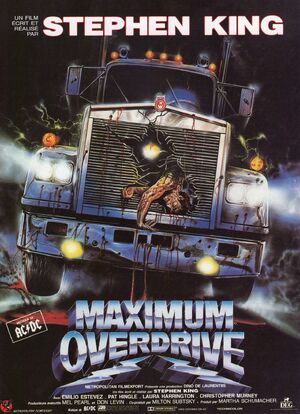 Maximum Overdrive is a 1986 film based on the short story "Trucks" by Stephen King. The film was directed by King from a screenplay that he wrote himself. The film starred Emilio Estevez, Pat Hingle, Laura Harrington, Christopher Murney, Yeardley Smith and J.C. Quinn as "Duncan".
Plot
The movie opens with a shot of Earth surrounded by green fog and states that on June 19, 1987, apocalyptic mayhem ensues when a strange radiation from a closely passing rogue comet, Rhea-M, causes all manner of mechanical devices and electrical appliances across the planet Earth to become sentient, self-aware and genocidal for eight days, twenty-nine minutes, and twenty three seconds.
Marauding big rig trucks trap a small group of people in a fictional roadside truck stop called "The Dixie Boy" just outside Wilmington, North Carolina. When the trucks begin demanding more than blood (they order the humans to pump diesel), the Dixie Boy survivors realize they will become enslaved by their own machines, and they must escape to Haven Island just off the coast of North Carolina, on which no vehicles or machines were permitted.
Bill Robinson rallies the survivors; they use a cache of guns found hidden under the diner. The trucks fight back themselves, at one point human fatalities result from an M274 "Mule" firing its mounted M60 machine gun into the building.
Eventually the survivors escape to the docks where the featured Green Goblin semi kills one more trucker. The semi is destroyed and the humans sail off to safety.
At the end of the movie, a perfunctory title card strongly implies extraterrestrials were behind the homicidal machines as part of a preliminary invasion. The machines are stopped and the invasion ends with the destruction of a UFO by a Soviet "weather satellite" equipped with nuclear missiles and laser cannons.
Notes
"Dixie Boy" is also the name of a truck stop in the Syfy television series Haven.
Cast
Emilio Estevez as Bill Robinson
Pat Hingle as Bubba Hendershot
Laura Harrington as Brett
Yeardley Smith as Connie
John Short as Curtis
Ellen McElduff as Wanda June
J.C. Quinn as Duncan Keller
Holter Graham as Deke Keller
Christopher Murney as Camp Loman
Frankie Faison as Andy
Pat Miller as Joey
Jack Canon as Max
Barry Bell as Steve Gayton
John Brasington as Frank
J. Don Ferguson as Handy
Leon Rippy as Brad
Robert Gooden as Barry
R. Pickett Bugg as Rolf
Giancarlo Esposito as Jerome Moore - ill-fated Videoplayer
Martin Tucker as 2nd Man
Marla Maples as 2nd Woman
Ned Austin as Bridgemaster
Richard Chapaman Jr. as Helper
Bob Gunter as Coach
Bill Huggins as Umpire
Stephen King as Man at Cashpoint
Jock Brandis as Driver of Orange Dump Truck
Evan A. Lottman as Driver of Gray Van
Barry Nolan as Newscaster Voice
Hal Fishman as Male Newsreporter Voice
Phil Adams as Dead Man Killed by Chainsaw
Gary McLarty as Dead Man on Porch Swing
Glenn Randall Jr. as Dead Ice Cream Man (scenes deleted)
Bernie Pock as Man The Face Stealer - Man in Drainage Ditch (scenes deleted)
Denver Mattson as  Camp Loman - 'Faceless' (scenes deleted)
Christopher Britton as Drive-thru Teller Machine Voice
Connie Smith as Dead Woman in Car
Gallery