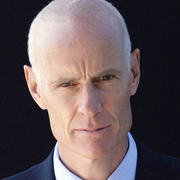 Matthew George 'Matt' Frewer (born January 4, 1958) is an American/ Canadian actor, singer, voice artist and comedian. Acting since 1983, he is best known for portraying the 1980s icon Max Headroom. He has appeared in five Stephen King adaptations; Trashcan Man in The Stand (1994), Mr. Clarkson in Riding the Bullet (2004), Ralph Carver in Desperation (2006), Sid Noonan in Bag of Bones (2011) and Dr. George in Quicksilver Highway (1997).
Frewer's most recent performances include a cameo appearance as Max Headroom character in the Adam Sandler comedy Pixels (2015), plus a portrayal of "General #2" in the Steven Spielberg picture The BFG (2016).
Community content is available under
CC-BY-SA
unless otherwise noted.