Lisey Debusher Landon is the main protagonist of 2006 novel Lisey's Story. She is the widow of Scott Landon and sister of Amanda, Darla, Cantata and Jodi Debusher. She is the daughter of Good Ma Debusher and Dandy Dave.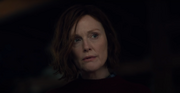 Lisey's Story
Story begins with Lisey clearing Scott's study two years after his death. Ever since she started clearing the study academicians and collectors bothered her. Lisey calls them Inkunk Warriors. Most insisting of them is Professor Woodbudy who keeps coming back to Lisey. Lisey refers to him as ' Woodsmucky'. Smuck is the
equivalent of ' fuck'. While Scott was alive they had their own special marital language. While clearing the study Lisey comes across a news article about the day Scott was shot by a crazed fan. News article writes that a young man named Tonny Eddington saved Scott Landon by attacking the crazed fan with a silver spade. But that is far from the truth. Liseys begins remembering that day. That day Scott was going to announce the opening of a library. Early from the morning Lisey had a bad feeling in her. Everything that happened seemed ominous. When they got to the place library was going to be built they met a man named Dashmiel. Lisey thinks of him as ' southern fried chicken- shit'. They met ' Toneh' Eddington the cameraman. While Scott was making a speech Lisey spotted a weird looking blonde man. This man was Gerd Allan Cole. He shot Scott one time but before he could kill him Lisey stroke Cole with a silver spade. Scott was fatally wounded. Lisey got to the spot where he fell. Scott told him about something coming. Something taking it's course. After that Scott was transferred to an hospital.
Lisey is sad and scared from remembering the past. After learning her ex-boyfriend married a French women Lisey's mentally ill sister Amanda cuts herself and goes to semi-catatonia. Lisey calls her ' Manda-Bunny' to end the state and succeedes this time. But sometime after Amanda goes into a full catatonia. When Lisey finds out this some weird words comes out of Amanda's mouth. First she talks with Scott's voice and then says ' Shhh we are going to watch the Hollyhocks'. Amanda is put into a mental instution. Scott reserved space for Amanda before his death.
In the meantime Lisey gets a call from a man called ' Zack McCool'. This man tells Lisey to give Scott's papers to Professor Woodbudy. If she doesn't give them Zack will hurt Lisey. Lisey is not afraid of him so she rejects him. She calls Woodbudy and tells him to call his guy off. Woodbudy explains his past with this guy. Zack's name was actually Jim Dooley and he was an ex- criminal. They met at a bar and talked about Scott Landon. One day Woodbudy told Jim about unpuplished manuscripts and Lisey Landon. They agreed Jim would 'pursue' Lisey. Woodbudy gave Jim his e-mail address and waited for contact. But when Woodbudy tried contact Jim he saw that his e-mail address was unused. Lisey belevies this story and tells Woodbudy to find Jim anyway. She goes out and gets the spade she used to save Scott from Scott's study.
Other day when Lisey comes home she finds a dead cat. On the door there is a note from Jim Dooley. Lisey calls the cops. Cops guard her house.
Lisey began to uncover the memories of her marriage. She remembers the night Scott proposed her. That night Scott and Lisey were going to see movies but Scott came home late. Lisey got mad at him and rebuked him. Saddened and hurt, Scott gone out and cut his hand with greenhouse glass. Then he came back home and said he made a ' blood-bool' for Lisey. ' Blood-bool' is a way to let bad-gunky and apologize that came from Scott's sad childhood. After they cured Scott's cut Scott proposed her. Next morning she said yes.
Lisey then begins remembering the time Scott told her about his childhood and took her to a magical place called Boo'ya Moon. She also remembers the time Scott was in a catatonic state and she had go to Boo'ya Moon to save him. She remembers the monster that haunted Scott all his life: Long Boy. What leads her to all this is a bool hunt Scott made for her when he was alive.
When she is in Scott's study Jim Dooley who got past the police attacks her. He abuses her with can opener. and tells her to get the papers ready by night. Wounded, Lİsey goes to Boo'ya Moon to heal herself with the pool's water. While she is healing she takes two sips from the pool and leaves Boo'ya Moon. Lisey visits Amanda at the mental instution and saves her from Boo'ya Moon. Lisey is determined to kill Jim Dooley and wants Amanda to help her. They lure Jim to Boo'ya Moon and Long Boy eats him.
After that Lisey comes to terms with her grief. She gives Scott's papers to a university. Long Boy starts haunting her to. She goes to Boo'ya Moon last time. She finds a story there called ' Lisey's Story'. It's about what happens to Scott after his brothers death. Lisey cries while reading it and leaves Boo'ya Moon. In the study she says ' I love you' and leaves the study for good.
Lisey's Relationship With Scott
Lisey and Scott met when they were in collage. They fell in love and started living together. Scott trusted Lisey with his darkest secrets. She loved Scott uncontidionally and always cared for him. She did very brave stuff just to save him.
Lisey's Relationships With Her Sisters
Lisey has a hard relationship with Darla. Darla always insisted on her and scolded her. Lisey lost her patience for her. Despite all, they still love each other very much. Lisey also has a similar relationship with Cantata.
Lisey admires Jodi for being indepented and headstrong.
Lisey and Amanda has a very special relationship. While Lisey is annoyed by her sometimes she is the only one that can understand Amanda. Amanda loves Lisey very much to. She is loyal and brave for Lisey.
Personality
Lisey is very brave. She is not afraid to take risks to accomplish something. She is cool minded and resourceful. She is able to take care of things easily. She is determined and stubborn. She is very funny and sarcastic. She is willing to do anything for her loved ones. She is smart and sharp minded.
She can be quite cruel and unforgiving at times. She has a tendency to look down at some people.
Adaptation
Julianne Moore play Lisey Landon in the 2021 series Lisey's Story