watch 01:12
The Loop (TV)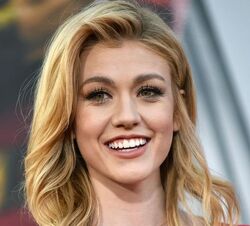 Katherine Grace McNamara (born November 22, 1995) is an American actress and singer. She is known for her lead role as Clary Fray on the 2016–2019 Freeform fantasy series Shadowhunters. In 2018, McNamara joined the cast of Arrow for its seventh season, playing Mia Smoak, the daughter of Oliver Queen and Felicity Smoak. She will portray Julie Lawry in the upcoming CBS ALL Access 2020 miniseries The Stand.
Early life and education
McNamara was born in Kansas City, Missouri, the only child of Ursula and Evan McNamara. She was raised in Lee's Summit, Missouri, and moved to Los Angeles, California in 2011.
While growing up, McNamara was an advanced student in certain subjects, resulting in her being part-homeschooled; she received her high school diploma at age 14. At age 17, McNamara graduated summa cum laude with a Bachelor of Science degree in Business Administration from Drexel University, completing much of her course work online.
Music
During the course of her career, McNamara has sung songs that were used in movies or television series in which she appeared. She wrote and sang "Chatter" for Contest, and she also appeared in a music video for that song. She wrote "My Heart Can Fly", which her character sings during a talent competition in Little Savages. She sang "Wait for You", the end credits song for A Sort of Homecoming. She also sang "Stay True", the end credits song for R.L. Stine's Monsterville: Cabinet of Souls. Her song "Ember" was played during the 20th episode of the second season of Shadowhunters.
In December 2019, McNamara was featured as the voice of singer Sally Jessup in the animated Christmas special episode of the Dreamworks series Spirit Riding Free entitled "Spirit of Christmas", which premiered on Netflix. She also provided the vocals for several songs featured in the special.
Charitable works
McNamara has participated in anti-bullying efforts by describing how she was bullied as a child. McNamara has also worked with the Lollipop Theater Network, visiting children who are confined to hospitals due to the severity of their illnesses. In 2017, she recorded the song "Glass Slipper", which was used as part of a charity campaign for the United Nations Girl Up program. She also created a t-shirt with the "Glass Slipper" lyrics as part of this campaign. In 2018 and 2019, she participated in the Big Slick Celebrity Weekend, which raises donations for the Kansas City Children's Mercy Hospital.
On March 31, 2020, McNamara announced that she was working on a song to be released on April 8. On April 8, the song "Just Like James" was made available in the Google Play Store, Apple's iTunes store, and Spotify. Proceeds from the song will be donated to the World Health Organization (WHO) for Covid-19 relief efforts. Google will donate funds matching sales from the first 30 days. (She originally recorded the song in 2014.)
On May 8, 2020, McNamara participated in a live-reading adaptation of Jane Austen's Pride & Prejudice with Acting for a Cause.
Community content is available under
CC-BY-SA
unless otherwise noted.