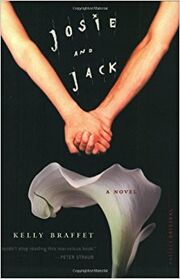 Josie and Jack
is the first novel written by
Kelly Braffet
.
The book was released on 4 February 2005.
Summary
Brother and sister Jack (18) and Josie (16) are unusually close. Their mother is long dead, and their arrogant father is a university professor who rages and fumes about the ills of mankind. Josie sees Jack as her whole world, but gradually he forces her to go out in the world, first to seduce Kevin, the son of a local pharmacist. But Josie starts to develop real feelings for Kevin, and Jack reacts with a powerful rage and envy. When a confrontation with their father causes Jack to take off, Josie is devastated. She feels as though she's lost her anchor, but it isn't long before he comes back for her, to take her to live with him in Erie, Pennsylvania, where he is staying with a girl named Becka. But Josie and Jack's relationship has never been one to permit outsiders for long, and soon the pair is adrift and headed for disaster.
Community content is available under
CC-BY-SA
unless otherwise noted.