Article Stub
This article is a stub, an article too short to provide more than rudimentary information about a subject. Please help the Stephen King Wiki by expanding it.
Joe St. George was played by David Stratmairn in Dolores Claiborne.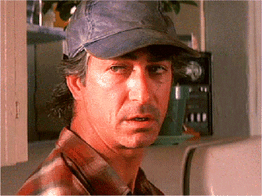 Biography
He was the abusive husband of Dolores Claiborne and father of Selena St. George. He mistreated Dolores physically. During a solar eclipse he fell down a well. It later came out, that he was killed by Dolores Claiborne under the advise of Vera Donovan, because she discovered, he was also sexually molesting their daughter and she saw this as the only solution to stop him. She made it look like an accident to get away with it.
Gallery
Community content is available under
CC-BY-SA
unless otherwise noted.