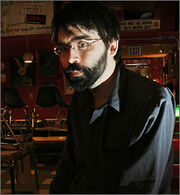 Joseph Hillstrom King (b. June 1972 in Hermon, Maine) is the son of Tabitha and Stephen King. He is a novelist as well, writing under the pseudonym of Joe Hill. Joe appeared as the actor for the little boy in the opening and closing segment of the Stephen King film Creepshow. He would later co-write the stories Throttle and In the Tall Grass with his father, as well as suggesting a different ending for 11/22/63.
His works frequently reference characters and locations from the King books such as Pennywise and Shawshank Prison.  
Biography
Joe is the younger brother of Naomi King and the older brother of Owen King, and grew up in Bangor, Maine. He chose to abbreviate his name, in a reference to an executed labor leader, in order to earn a reputation as a writer of merit on his own. After achieving a degree of independent success, he publicly confirmed his identity in 2007 after an article the previous year in Variety broke his cover. He was married to Leanora King for eleven years (1999-2010). They have three children.
Bibliography
Appearances
Community content is available under
CC-BY-SA
unless otherwise noted.