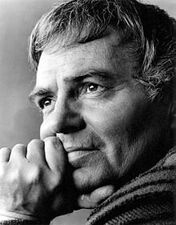 James Neville Mason (15 May 1909–27 July 1984) was an English actor.
After achieving much success in the United Kingdom, where he was the top box office attraction in 1944 and 1945, he made the transition to the United States and became one of Hollywood's biggest stars. His iconic films included Odd Man Out, The The Desert Fox, A Star Is Born, 20,000 Leagues Under the Sea, Lolita (directed by Stanley Kubrick), North by Northwest, Prisoner of Zenda, Journey to the Center of the Earth, A Touch of Larceny, Bigger Than Life, Julius Caesar, Georgy Girl, The Deadly Affair, Age of Consent, Heaven Can Wait, The Boys from Brazil, The Verdict, Mandingo, Murder by Decree and he portrayed Richard Straker in Salem's Lot.
He was nominated for three Academy Awards and three Golden Globes (winning the Golden Globe in 1955 for A Star is Born). He was married to actress Clarissa Kaye who also appeared in the 1979 television mini-series Salem's Lot.
Community content is available under
CC-BY-SA
unless otherwise noted.