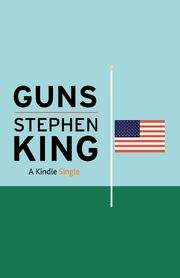 "Guns" is a non-fiction essay published by Stephen King, and released by King's own Philtrum Press as a Kindle Single on 25 January 2013.
Summary
There are a handful of subjects in America so emotional and polarizing that the national dialogue around them amounts to little more than a shouting match. Chief among these is the subject of guns. In this intimate and moving Kindle Single, Stephen King employs all his abilities as writer and citizen to address gun violence in America. But why should we care what Stephen King has to say? As it turns out, there are a number of reasons. Despite his "liberal creds," King is an unapologetic gun owner himself. He is also the author of a novel – published under the pseudonym Richard Bachman – that has served as a "possible accelerant" for at least four real-life high school shooters. King had his publisher take that book off the market long ago, but the guns and the occasional bursts of unfathomable violence remain. When division is everywhere, is it possible for someone to argue passionately for the middle road? That is what King seeks to do here – this is a frank and thoughtful contribution to a dialogue in dire need of voices from the "all-but-deserted middle."
Community content is available under
CC-BY-SA
unless otherwise noted.