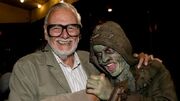 George Andrew Romero (February 4, 1940 – July 16, 2017) was an American-Canadian film maker and writer, best known for his Night of the Living Dead film series of gruesome and satirical horror films about a zombie apocalypse, beginning with Night of the Living Dead and notably continuing on with Dawn of the Dead and Day of the Dead. His other works contributed include The Crazies, Creepshow, Martin, Monkey Shines, Knightriders, and The Dark Half. On July 16, 2017, Romero died in his sleep following a "brief but aggressive battle with lung cancer", according to a statement by his longtime producing partner, Peter Grunwald. Romero died while listening to the score of one of his favorite films, The Quiet Man, with his wife, Suzanne Desrocher Romero, and daughter, Tina Romero, at his side.
Community content is available under
CC-BY-SA
unless otherwise noted.