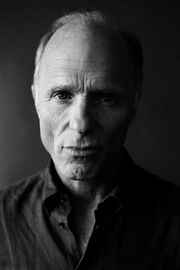 Edward Allen 'Ed' Harris (born November 28, 1950) is an American actor, producer, director, and screenwriter. He is known for his performances in films such as The Right Stuff (1983), The Abyss (1989), Glengarry Glen Ross (1992), Sheriff Alan Pangborn in Needful Things(1993), Nixon (1995), The Rock (1996), Absolute Power (1997), Pollack (2000), A Beautiful Mind (2001), Enemy at the Gates (2001), Radio (2003), A History of Violence (2005), Gone Baby Gone (2007), Appaloosa , The Way Back (2010), Man on a Ledge (2012), Gravity (2013), Snowpiercer (2013), and Run All Night (2015). Harris currently stars in the HBO sci-fi drama series Westworld.
Ed Harris is a three-time nominee of the Academy Award for Best Supporting Actor for his performances in Apollo 13 (1995), The Truman Show (1998), and The Hours (2002). He was nominated for an Academy Award for Best Actor for playing artist Jackson Pollock in his directorial debut Pollock (2000). He also won a Golden Globe Award for Best Supporting Actor – Series, for playing US Senator ohn McCain in Game Change (2012). In 2015, Harris received a star on the Hollywood Walk of Fame.He portrayed General William Starkey in the The Stand 1994 miniseries. Ed Harris's first starring film-role was in George A. Romero's Knightriders (1981) which also featured a small cameo by Stephen King.
Community content is available under
CC-BY-SA
unless otherwise noted.