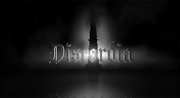 "Discordia" is an alternate reality game taking place within the context of the Dark Tower series that will "chronicle the war between the Tet Corporation and Sombra/NCP."
The concept for the game was developed by Brian Stark, produced by Metro DMA Productions with engineering by Eric Klotzko and original paintings by Michael Whelan, directed by Robin Furth, and executive produced by Stephen King. Judy Hahn served as associate producer, Marsha DeFilippo served as producer, and both contributed writing along with Jordan Hahn. The opening briefings are narrated by Stephen King.
The project "has been in development since early 2007," starting as a "small add-on concept for the then new Dark Tower Official Web Site." On 19 October 2009, a two-minute-nine-second video of the opening credit sequence was released. On 30 November 2009, a 58-second teaser video was released.
Chapters
"Chapter One (for Callahan!)" went live on  December 7th 2009.
Op19 is dispatched to investigate the Dixie Pig, traveling through the the tunnel that leads to Fedic in search of magical items.
Character orbs can also be collected.
Website
Community content is available under
CC-BY-SA
unless otherwise noted.