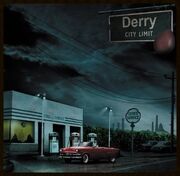 Derry, Maine is a fictional town in the Stephen King multiverse and the setting of several novels and stories. It first appeared in the short story "The Bird and the Album" and was expanded on in It, Insomnia, and 11/22/63. The town's exact location differs slightly from story to story but it's always in the Bangor vicinity. In the 1983 novel Pet Sematary, Ludow is located south of Bangor and north of Derry. King has acknowledged that Derry is actually his portrayal of Bangor. A map on King's official website places Derry in the vicinity of Etna (west of Bangor).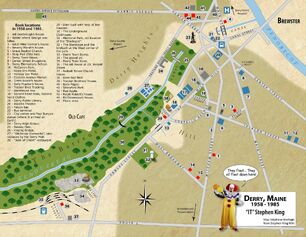 The town of Derry, Maine is located in the fictional Derry County named after the county of the same name in Northern Ireland, of which Derry / London-Derry is the County's largest city.
History
Derry was originally settled by a party of about 300 English / Northern Irish settlers.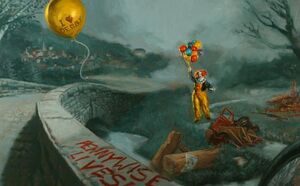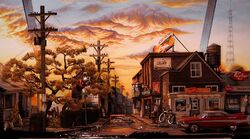 Notable Landmarks
The Kissing Bridge
The Derry Standpipe
Paul Bunyan
The Derry War Memorial
Notable Locations
Up-Mile Hill
Bassey Park
The Barrens
Local Businesses
Back Pages (used book store)
Center Street Drug Store
The Dunning Butcher Shop
The Derry Town House
Rite Aid Pharmacy
WomanCare (clinic)
Secondhand Rose, Secondhand Clothes
The Red Apple
Acadia Mental Health
Notable Residents
[Greta Bowie] (Greta Keene in the 2017 film)
Ellen Dunning

Doris Dunning

Arthur "Tugga" Dunning

Troy Dunning
Sharon Denbrough
Zack Denbrough
Marcia Fadden
Evan "Ev" McDonnough

Robert "Bob" McDonnough

Lace McDonnough

Sally Mueller
List of incidents
1741 original settlers of Derry Township, about 340 people, disappeared.
Derry was started as a beaver camp until one day 91 people vanished without a trace.
1851 John Markson killed his entire family with poison and then gobbled an entire "white-nightshade" mushroom.
1864 120 people (50 kids and 70 adults) were shot and only 10 kids survived and 1 adult, by a gang called Derry Padrinos ran by Confederate sympathizers.
1879 remains found of a crew of 9 lumberjack who were snowed in a camp at the upper Kenduskeag. All 9 hacked to pieces.
1900 5 people (5 policemen) were murdered by the Derry Padrinos, Later in 1902 the Derry Padrinos were murdered by Pennywise (IT)
1906 Easter Sunday, 102 people (88 kids and 14 adults) were killed during the Kitchener Ironworks explosion.
1935 The Bradley Gang was executed by a group of vigilantes in a shootout downtown.
1930 The Black Spot burned down.
Gallery
Appearances