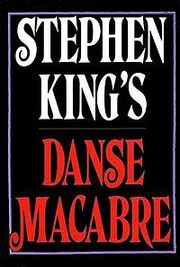 Danse Macabre is the eleventh book published by Stephen King, and his first nonfiction work. The book was released by Everest House in April 20, 1981.
Plot
Danse Macabre examines the various influences on King's own writing, and important genre texts of the 19th and 20th centuries. Danse Macabre explores the history of the genre as far back as the Victorian era, but primarily focuses on the 1950s to the 1970s (roughly the era covering King's own life). King peppers his book with informal academic insight, discussing archetypes, important authors, common narrative devices, "the psychology of terror", and his key theory of "Dionysan horror". For fans of King's famous novel The Stand there are several pages detailing how King got his inspiration for the book (Donald DeFreeze and a accidental chemical weapons spill in Utah) and his experience of writing it and getting it published.
Title
Stephen King's novel The Stand was translated into Spanish as La Danza de la Muerte (which means "Danse Macabre"), generating confusion between the two books. Similarly, his 1978 collection of short stories Night Shift was released in France as Danse Macabre in 1980. To avoid confusion, the actual "Danse Macabre" essay was given the title "Anatomie de l'Horreur" ("An Anatomy of Horror") when it was released in France 14 years later, in 1995.
Community content is available under
CC-BY-SA
unless otherwise noted.