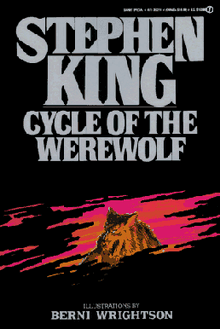 Cycle of the Werewolf is the 18th book published by Stephen King; it was his 15th novel, and the eleventh novel under his own name. The book was released by Land of Enchantment in November of 1983, and illustrated by Bernie Wrightson. Cycle of the Werewolf and The Colorado Kid are the only 2 Stephen King novels to only be published in paperback once.
Summary
The story is set in the small town of Tarker's Mill, Maine. A werewolf is viciously killing people and animals, and a strange incident takes place at each full moon. The otherwise normal town is living in fear. The protagonist of the story is Marty Coslaw, an eleven-year-old boy in a wheelchair. The story goes back and forth from the terrifying incidents to Marty's youthful day-to-day life and how the horror affects him.
Adaptations
The story was adapted into a film in 1985.
Audiobook
The audiobook version of Cycle of the Werewolf is read by Nick Sullivan.
Gallery