For the most complete and up to date information see Chloë Grace Moretz fandom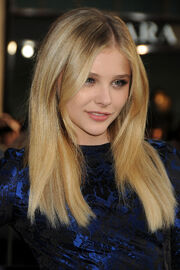 Chloë Grace Moretz ( born February 10, 1997) is an American actress. She began her acting career at the age of seven and has appeared in films such as The Amityville Horror (2005), (500) Days of Summer (2009), Diary of a Wimpy Kid (2010), Kick-Ass (2010), Let Me In (2010), Hugo (2011), and Dark Shadows (2012). She appeared in the 2013 remake of the 1976 film in the title role.
Early Life
Moretz was born in Atlanta, Georgia. Her mother, Teri (née Duke), is a nurse, and her father, McCoy Lee Moretz, is a plastic surgeon. Moretz has four older brothers: Brandon, Trevor, Colin, and Ethan. She has described her family as "very Christian". One of her brothers, Trevor (aka "Duke"), is her acting coach and accompanies her on trips and press dates when her parents are unable to attend. Moretz moved from Cartersville, Georgia to New York in 2002, with her mother and her older brother, Trevor, because he was accepted into the Professional Performing Arts School, which is what first drew her interest in acting. Moretz would help Trevor read lines, and he taught her some of the acting techniques he learned in school. When Moretz realized how much she enjoyed the activity, the family decided to attend some auditions to see if she could apply her skills professionally.
Career
When asked in October 2012 why she gravitates tends to play darker, troubled characters, such as those in Let Me In, Kick-Ass, Maggie and Carrie, Moretz responded that she has such a happy family life, and finds it challenging to playing characters that are significantly different from that reality.
Personal 
In order to maintain a clear separation between her professional career and her personal life, Moretz does not invite her friends to film sets or premieres, as she says it is easier for her to concentrate on work, and to relax with her friends when not working.
Her hobbies include video games, skiing, and listening to various types of music.
Official Account
Unofficial
Community content is available under
CC-BY-SA
unless otherwise noted.