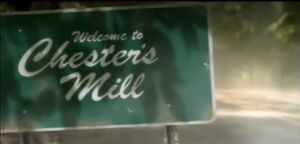 Chester's Mill is a town in Maine that was sealed off by an invisible barrier on Dome Day.
The town shares borders with Castle Rock, Tarker's Mill, Motton, Harlow, and TR-90.
The pair of Chester's Mill and Tarker's Mill are sometimes refered to as the Twin Mills.
The town is destroyed by fire towards the end of the book, killing everyone but a few people.
Residents
Anderson Family
Bowie Family
Bushey Family
Calvert Family
Dinsmore Family
Drake Family
Everett Family
Libby Family
McClatchey Family
Perkins Family
Rennie Family
Sanders Family
Twitchell Family
​​​​​​Rose Twitchell
Businesses
Website
Town Map 
Town View
Appearances
"N."
Castle Rock (TV Series) 
Community content is available under
CC-BY-SA
unless otherwise noted.