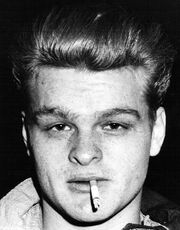 Charles Raymond "Charlie" Starkweather (November 24, 1938 – June 25, 1959) was an American teenaged spree killer who murdered eleven people in the states of Nebraska and Wyoming in a two-month murder period between December 1957 and January 1958. All but one of Starkweather's victims were killed between January 21 and January 29, 1958, the date of his arrest. During the murders committed in 1958, Starkweather was accompanied by his 14-year-old girlfriend, Caril Ann Fugate (portrayed by Sissy Spacek in the 1973 movie Badlands).
Starkweather was executed 17 months after the events, and Fugate served 17 years in prison before her release in 1976. The Starkweather-Fugate spree has inspired several films, including The Sadist (1963), Badlands (1973), Kalifornia (1993), Natural Born Killers (1994) and The Frighteners (1996). Starkweather's electrocution in 1959 was the last execution in Nebraska until 1994. Starkweather was the creative inspiration for The Kid in The Stand.
Gallery
Community content is available under
CC-BY-SA
unless otherwise noted.