Wiki Targeted (Entertainment)
Play Sound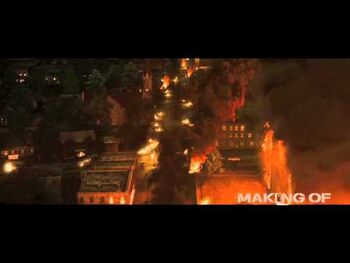 Chamberlain is an actual village in Maine. The village shares borders with Motton, Maine and Lewiston. It is a small village with a population of about 150 inhabitants. Although this is a real location, the town mentioned in the novel Carrie is a fictional town intended by the author to exist elsewhere in the state of Maine, and is not the same as the actual village of Chamberlain, Maine.
Three schools are mentioned as existing in Chamberlain. Barker Street Grammer School, Chamberlain Junior High School, and Thomas Ewen Consolidated High School.  Carrie White and her mother Margaret White both attended Ewen High School.  Johnny Riddell attended a high school in Chamberlain, presumably the same school as Carrie. On Monday, May 27, 1979, a Prom Night massacre that originated in Ewen High ended up destroying the school and most of the city in the process. In modern times it has become a ghost town, and has never been rebuilt from the ashes of disaster because the town's inhabitants have lost their will in the future and decided to abandon the city to be able to forget the deaths and tragedy which were results of the Carrie White affair.
Since then, it has become a tourist attraction for those who want to know more about The Black Prom. With its buildings and destruction intact, it was easy to achieve.
Residents
Donna y Mary Thibodeau

Georgette Shyres
Cora Simard

Freddy DeLois

Jackie Tabolt

Tim Winxless
Trudy Borne
Patricia Pollack
Pete Tabor
Señora horan
Ray brower (passed away)
Georgette Shyres

Donna y Mary Thibodeau

Ruth Gogan (1976 film adaptation)
Rita Desjardin (novel and film adaptation of 1976)
Lou Garson (2002 adaptation)
Katie O'SheaPatricia Pollack
Pete Tabor
Tim Winxless
Living Residents 
Unknown Destination
Appearances
Locations/Buildings
Chamberlain Hardware and Lumber Company
The Kelly Fruit Company
Chamberlain Center (Blue Ribbon Laundry)
Carlin Street
Ewen Avenue