Wiki Targeted (Entertainment)
Play Sound
Carrie is a 1976 American supernatural horror film based on Stephen King's 1974 epistolary novel of the same name. The film was directed by Brian De Palma and produced by Paul Monash with a screenplay by Lawrence D. Cohen. The film received two Academy Award nominations, one for Sissy Spacek in the title role and one for Piper Laurie as her abusive mother. The film featured numerous young actors including Nancy Allen, William Katt, Amy Irving and John Travolta whose careers were launched or escalated, by the film. It also relaunched the career of Piper, who had not been active in show business since 1961. Carrie was the first of more than 100 film and television productions adapted from or based on the published works of Stephen King.
Plot
The shy, unpopular and bullied 16-year-old high school student, Carrie White experiences her first period as she showers with her fellow female classmates after gym class. Unaware of what is happening to her, she panics and desperately pleads for help, believing she is bleeding to death.
The other girls, led by the arrogant, popular and beautiful student, Chris Hargensen who frequently bullies Carrie, gleefully respond to this by pelting her with tampons, laughing and chanting "Plug it up! Plug it up!". The gym teacher, Miss Collins breaks up the commotion and slaps Carrie in the face in an attempt to calm her down. A light bulb mysteriously breaks as Carrie reaches the height of her panic. Miss Collins manages to console Carrie and tell her what menstruation is. Later, the school principal seems uncomfortable as Miss Collins expresses bewilderment that Carrie is so uninformed about menstruation. As he dismisses Carrie from school for the afternoon, she becomes frustrated at both cigarette smoke emanating from an ashtray and the principal repeatedly referring to her by the name "Cassie", causing the ashtray to flip from his desk and shatter. On her way home, a young boy teases Carrie and she makes him fall off his bicycle simply by glaring at him. At home, Carrie is abused by her fanatically religious mother, Margaret, who rants about menstruation being the result of sinful thoughts. Carrie is dragged and locked in a small specially decorated "prayer closet" and forced to pray for forgiveness. When she is finally allowed to return to her room, she gazes into her reflection, causing the mirror to shatter. Carrie's classmate, Sue Snell feels guilty for participating in the locker room incident, so she asks her handsome and popular boyfriend, Tommy Ross to invite Carrie to the upcoming Prom in her place to atone for her cruelty. Carrie is reluctant, but Miss Collins convinces her to accept Tommy's invitation. During Miss Collins's after school detention, Chris furiously throws a tantrum and defiantly skips her detention for tormenting Carrie. Miss Collins responds by violently shaking Chris and slapping her in the face, then informing her she is suspended from school and banned from the Prom. Swearing vengeance, Chris recruits her delinquent boyfriend, Billy Nolan to play a prank on Carrie. they slaughter a pig from a nearby farm and place a bucket of it's blood above the stage at the school's gymnasium, where Chris plans to dump it on Carrie at the Prom. Margaret discovers Carrie's Prom plans and attempts to abuse her again. Having discovered her telekinetic powers, Carrie asserts her powers and defies her mother, flinging her away simply by yelling at her. Margaret responds by accusing Carrie of being a "Satanic witch". At the Prom, Carrie finds acceptance among her peers and shares a kiss with Tommy. Chris's best friend, Norma Watson rigs the election and Carrie is crowned Prom Queen. Carrie's joy is cut short when Chris pulls a rope to dump the pig's blood on her. Chris and Billy escape through a back door, while the bucket falls on Tommy's head, knocking him unconscious. The blood soaked Carrie than hallucinates about everyone in the gymnasium, including Miss Collins, is laughing at her and soon unleashes her telekinetic fury upon the crowd, guilty and innocent alike. The doors slam shut, a high pressure fire hose assaults faculty members and students including Norma, who is knocked unconscious, the principal is electrocuted and Miss Collins is crushed to death. As the gym catches on fire, Carrie calmly walks out and locks the remaining students inside with her powers. Chris and Billy attempt to run over Carrie as she walks home, but Carrie causes their car to flip and explode, killing them both by burning them alive. At home, Carrie is comforted by her mother, who strokes her daughter's hair as she tenderly comforts her in her arms. She reveals her guilt about having conceived Carrie through her only act of sexual intercourse with Carrie's drunken father, a marital rape that she had both loathed and enjoyed. As they pray together, Margaret stabs her daughter in the back and pursues her through the house with a delirious smile on her face. Defending herself, Carrie telekinetically causes kitchen utensils to fly through the air and crucify Margaret. Distraught over her mother's death, Carrie loses control of her powers and causes the house to crumble and burn down with Carrie and her mother still inside, leaving them both dead.
Sometime after Carrie's death, Sue, the only survivor of The Black Prom, is seen laying flowers on the charred remains of Carrie's home next to a "For Sale" sign vandalized to read "Carrie White Burns In Hell!". A bloody arm reaches from the rubble and grabs Sue, causing her to awaken from this recurring nightmare, screaming.
Cast
Sydney Lassick

as

Mr. Fromm
Unknown as

Patricia Pollack
Unknown as

Elenor Richmond
Soundtrack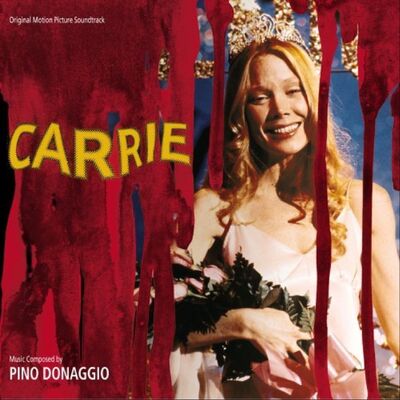 Featured Music
Heatwave by Martha and the Vandellas
Education Blues by Vance or Towers
Born To Have It All by

Katie Irving

I Never Dreamed Someone Like You Could Love Someone Like Me by Katie Irving
Score
Card Catalogue/Telekinesis
They're All Gonna Laugh At You
Mother At The Top Of The Stairs
For The Last Time, We'll Pray
Collapse Of Carrie's House
Production
Development
Carrie was the first Stephen King novel to be published and the first to be adapted into a feature film. In an interview in Port Charlotte, Florida at a public appearance near his home on the Gulf coast on March 20th, 2010, Stephen said he was 26-years-old at the time and was paid just $2,500 for the film rights, but added "I was fortunate to have that happen to my first book." Brian De Palma told Cinefantastique magazine in an interview in 1977:
"I read the book. It was suggested to me by a writer friend of mine. A writer friend of his, Stephen King, had written it. I guess this was almost two years ago. I liked it a lot and proceeded to call my agent to find out who owned it. I found out that nobody had bought it yet. A lot of studios were considering it, so I called around to some of the people I knew and said it was a terrific book and I'm very interested in doing it. Then nothing happened for, I guess, six months"
Lawrence D. Cohen was hired as the screenwriter and produced the first draft, which had closely followed the novel's intentions. United Artists accepted the second draft but only allocated Brian a budget of $1.6 million, a small amount considering the popularity of horror films at the time. The budget eventually rose to $1.8 million. Certain scripted scenes were omitted from the final version, mainly due to financial limitations.
Casting
Many young actresses auditioned for the lead role, including Melanie Griffith. Sissy Spacek was persuaded by her husband, Jack Fisk to audition for the title role. Jack then convinced Brian to let her audition and she read for all of the parts. Brian's first choice for the role of Carrie was Betsy Slade, who received good notices for her role in the film, Our Time. Determined to land the leading role, Sissy backed out of a television commercial she was scheduled to film, rubbed Vaseline into her hair, didn't bother to wash her face and arrived for her screen test clad in a sailor dress which her mother had made her in the 7th grade, with the hem cut off and was given the part. Nancy Allen was the last to audition and her audition came just as she was on the verge of leaving Hollywood. She and Brain later married.
Filming
Brain began with director of photography Isidore Mankofsky, who was eventually replaced by Mario Tosi after conflict between Isidore and Brain ensued. Gregory M. Auer, assisted by Ken Pepiot, served as the special effects supervisor for Carrie, with Jack Fisk, Sissy's husband, as art director. The White's house was filmed in Santa Paula, California. To give the house a Gothic theme, the director and producers visited religious souvenir shops to find artifacts to decorate the set location. A wraparound segment at the beginning and end of the film was scripted and filmed, which featured the White's home being pummeled by stones that hailed from the sky. The opening scene was filmed as planned, though on celluloid, the tiny pebbles looked like rain water. A mechanical malfunction botched filming the night when the model of the White's home was set to be destroyed by stones, so the filmmakers burned it down instead and deleted the scenes with the stones altogether. The original opening scene is presumed lost. The final scene, in which Sue Snell reaches toward Carrie's grave, was shot backwards to give it a dreamlike quality. This scene was inspired by the final scene in Deliverance. Rather than let a stunt double perform the scene underground, Sissy insisted on using her own hand in the scene, so she was positioned under the rocks and gravel. Brian explains that crew members "had to bury her. Bury her! We had to put her in a box and stick her underneath the ground. Well, I had her husband bury her because I certainly didn't want to bury her".
Music
The score for Carrie was composed by Pino Donaggio. In addition, Pino scored two pop songs, Born To Have It All and I Never Dreamed Someone Like You Could Love Someone Like Me with lyrics by Merrit Malloy for the early portion of the Prom sequence. These songs were performed by Katie Irving. Pino would work again with Brain on Home Movies, Dressed To Kill, Blow Out, Body Double, Raising Cain, and Passion. The soundtrack album was originally released on vinyl in 1976 from United Artists Records. A deluxe CD edition containing a few tracks of dialogue from the film was released by Rykodisc in 1997 and a 2005 CD re-release of the original soundtrack was available from Varèse Sarabande. In 2010, Kritzerland Records released all 35 cues of Pino's score for the film on a two-disc CD set which was presented as the complete score. Also included in this edition were the versions of Born To Have It All and I Never Dreamed Somone Like You Could Love Someone Like Me which were heard in the film, as well as instrumentals of both songs and hidden at the end of the final track, a version of the Calisthenics cue with Betty Buckley's studio recorded voice over from the detention scene. The second disc was a remastered copy of the original 13 track album. The Kritzerland release was a limited edition of 1,200 copies. Kritzerland re-released the first disc as The Encore Edition in February 2013, this release was limited to 1,000 copies.
Reception And Legacy
Carrie received largely positive reviews and is widely regarded as one of the best films of 1976. Roger Ebert of the Chicago Sun-Times stated the film was an "absolutely spellbinding horror movie", as well as an "observant human portrait", giving three and a half stars out of four. Pauline Kael of The New Yorker stated that Carrie was "the best scary-funny movie since Jaws a teasing, terrifying, lyrical shocker". Take One Magazine critic Susan Schenker said she was "angry at the way Carrie manipulated me to the point where my heart was thudding and embarrassed because the film really works" A 1998 edition of The Movie Guide stated Carrie was a "landmark horror film", while Stephen Farber prophetically stated in a 1978 issue of New West Magazine, "it's a horror classic and years from now it will still be written and argued about and it will still be scaring the daylights out of new generations of moviegoers" Quentin Tarantino placed Carrie at number eight in a list of his favorite films ever. Nevertheless, the film was not without it's detractors. Andrew Sarris of The Village Voice commented, "There are so few incidents that two extended sequences are rendered in slow-motion as if to pad out the running time…" In addition to being a box office success earning $14.5 million in theater rentals by January 1978 Carrie is notable for being one of the few horror films to be nominated for multiple Academy Awards. Sissy Spacek and Piper Laurie received nominations for Best Actress and Best Supporting Actress awards, respectively. The film also won the grand prize at the Avoriaz Fantastic Film Festival, while Sissy Spacek was given the Best Actress award by the National Society of Film Critics. In 2008, Carrie was ranked number 86 on Empire Magazine's list of The 500 Greatest Movies Of All Time. The film also ranked number 15 on Entertainment Weekly's list of the 50 Best High School Movies and No. 46 on the American Film Institute's list of 100 Greatest Cinema Thrills and was also ranked 8th for its famous ending sequence on Bravo's The 100 Scariest Movie Moments. In a 2010 interview, Stephen replied that he thought, although dated now, Carrie was a "good movie"
Home Media
Carrie was originally released on VHS and LaserDisc formats, for which it received numerous editions throughout the world. In the United States and Canada, Carrie has been made available several times on DVD format from MGM Home Entertainment, debuting on September 29th, 1998, while a Special Edition set was released on August 28th, 2001. On December 4th, 2007, the film was released a part of MGM's Decades Collection, which included a soundtrack CD. The film was additionally released within multiple sets via MGM, first with Carrie, The Rage: Carrie 2 and the 2002 TV film on January 18th, 2011 and the second, as part of MGM's 90th anniversary, featured with Misery and The Silence Of The Lambs. The film was released for the first time on Blu-ray in the U.S. and Canada from MGM on October 7th, 2008, which contained an MPEG-2 codec, with new DTS HD 5.1 Master Lossless Audio, while retaining the original English Mono and included Spanish Audio and French 5.1 Dolby Surround. The only special feature on the set is a theatrical trailer. The film was again released on Blu-ray on July 18th, 2013, when it was available exclusively through Comic-Con in San Diego from MGM and FoxConnect, containing a slipcover with exclusive artwork. Two further editions were made available from MGM in 2014, a Carrie 2-Pack set containing the original film and the 2013 remake, released September 9th, 2014 and finally, a re-issue Blu-ray with a collectible Halloween faceplate, on October 21st, 2014. Home distribution rights are currently held by Shout Factory and the film was released via their subsidiary label, Scream Factory on October 11th, 2016 in a 2-disc Collector's Edition, now available with MPEG-4 coding and a new 4K scan. Special features on the set include the theatrical trailer, Carrie franchise trailer gallery, new interviews with writer Lawrence D. Cohen, editor Paul Hirsch, actors Piper Laurie, P.J. Soles, Nancy Allen, Betty Buckley, William Katt and Edie McClurg, casting director Harriet B. Helberg, director of photography Mario Tosi and composer Pino Donaggio, Horror's Hallowed Grounds revisiting the film's original locations, Acting Carrie featurette, Visualizing Carrie featurette, a look at Carrie: The Musical, TV spots, radio spots, still gallery, Stephen King and the evolution of Carrie text gallery. The set also includes reversible sleeve containing original artwork and newly commissioned artwork from Shout Factory and a slipcover containing the new artwork. On October 11th, 2016, Shout Factory additionally released a Deluxe Limited Edition of 2000 copies, which includes the slipcover contained in the Collector's Edition, with an additional poster matching the slipcover and an alternative slipcover and poster consisting of different artwork. In the United Kingdom, the film received it's initial DVD release on February 1st, 2000 via MGM. A re-issue Special Edition DVD was made available from MGM on October 22nd, 2001, while a two-disc standard set was released on September 7th, 2006. A DVD set, The Carrie Collection, consisting of both the original film and The Rage: Carrie 2, was released from 20th Century Fox Home Entertainment on October 7th, 2013, while on the same day, a re-issue DVD containing newly commissioned artwork, as well as the first ever Blu-ray release in the UK was made available from 20th Century Fox. A second Blu-ray edition became available in the form of a steelbook, released on September 29th, 2014, a set which reverted to the previous-style artwork. On September 22nd, 2017, it was announced that Carrie would receive a Limited Collector's Edition Blu-ray of 5000 copies from Arrow Films, providing the definitive release of the film. The set will contain a new 4K restoration, with special features, including commentary by authors Lee Gambin and Alexandra Heller Nicholas, recorded exclusively for the release, brand new visual essay comparing the various versions and adaptations of Carrie, Acting Carrie featurette, More Acting Carrie featurette, Writing Carrie an interview with writer Lawrence D. Cohen, Shooting Carrie an interview with cinematographer Mario Tosi, Cutting Carrie an interview with editor Paul Hirsch, Casting Carrie an interview with casting director Harriet B. Helberg, Bucket Of Blood an interview with composer Pino Donaggio, Horror's Hallowed Grounds a look back at the film's locations, gallery, trailer, TV spots, radio spots, Carrie trailer reel and 60-page limited edition booklet featuring new writing on the film by author Neil Mitchell, alongside reversible artwork, poster and art cards. The set was released on December 11th, 2017. On most of the later VHS releases and DVD sets, John Travolta's name was included on the artwork alongside Sissy Spacek. Although John only appeared in a minor supporting role in the film, his name was featured only due to his high profile career in his many films following Carrie, therefore possibly increasing sales.
Trivia
While speaking at a book event in Fort Myers, Florida in 2010, Stephen King recalled that he was paid just $2,500 for the film rights to Carrie, which may seem like a pittance, but he has no regrets. "I was fortunate to have that happen to my first book" Stephen said.
Nancy Allen

claims she never realized her character was going to be so evil until she saw the finished film. She thought she and

John Travolta

were playing such self-centered, bickering morons that they were there for comic relief.

Piper Laurie

also thought the character of Margaret White was so over the top that the film had to be a comedy.
The name of the high school is Bates High, a reference to Norman Bates from Psycho. In addition, the four-note violin theme from Psycho is used over and over in the film.
The dizzying camera shot during the Prom scene was achieved by placing

William Katt

and Sissy Spacek on a platform that was spinning in one direction, while the camera was being dollied in the opposite direction.
This was the first Stephen King novel adapted into a film.
When Sissy Spacek was preparing for her character, she isolated herself from the rest of the ensemble, decorated her dressing room with heavy religious iconography and studied Gustave Doré's illustrated Bible. She studied "the body language of people being stoned for their sins" starting or ending every scene in one of those positions.
The success of Carrie at the box-office cemented Stephen King's name as an author. Stephen himself was delighted with the film.
The Prom scene took over two weeks to shoot and required a total of 35 takes.
Brian De Palma wanted

Betty Buckley

to really slap Nancy Allen. Because Nancy couldn't get the reaction Brian wanted, Betty ended up slapping her as many as 30 times.
Adding to the mother's psychotic character is the fact that none of the Bible passages in the film are real. For example, she quotes "Genesis: Chapter 3" to say that sexuality is evil. That chapter is actually the story of Adam and Eve eating the forbidden fruit. The Bible doesn't say anything the mother says it does.
Originally, Brian De Palma had used the split screen effect extensively during the Prom scene. Disappointed with the results, he re-edited most of the scenes into full frame shots leaving only the few split screen moments that he felt worked.
Sissy Spacek was 25-years-old at the time of filming. Carrie is 16-years-old in the novel.
According to Piper Laurie, she honestly thought her character was too over the top fanatical to be taken seriously. Brian De Palma had to take her to the side and personally tell her it was a horror film and not a "black comedy" as she thought it was. Even so, she would constantly burst out into laughter between takes because not only was her characterization and wardrobe laughable in her eyes, but the dialogue itself was humorous for her. To this day, she still refers to and maintains the film as a black comedy.
Many of the girls present in the locker room were originally hesitant to appear nude in the film, but after Brian De Palma showed them the nude shots of Sissy Spacek, they became more confident.
Sissy Spacek asked Brian De Palma how he wanted her to react when Carrie first realizes that she is bleeding in the showers at the start and Brian told her "It's like you've been hit by a truck." Sissy talked to her husband,

Jack Fisk

the art director, who as a child had been run over by a car when he was standing in the streets looking at Christmas lights a neighbor had put up and used his description of the experience as a basis for the scene.
For her screen test, Sissy Spacek rubbed Vaseline into her hair and didn't bother to wash her face. She also wore a sailor dress which her mother had made for her when she was in the 7th grade with the hem cut off.
Sissy Spacek wasn't considered for the role of Carrie until her husband, art director Jack Fisk, convinced director Brian De Palma to allow her to audition. Until that, Brian was wedded to the idea of Amy Irving playing Carrie, when Sissy got the part instead, Brian gave Amy the smaller role of Sue.
To become Carrie, Sissy Spacek would intentionally avoid socializing with the other actors on and off set. She would stay in her trailer or hide in the corner or behind the set. Also, before this happened, she warned the other actors that although she loved them, she would be avoiding them so she could stay in character. She told them they would have so much fun together after the film was finished.
Initially,

P.J. Soles

was only cast for two weeks, but after she hit Sissy Spacek over the head with her red baseball hat during the volleyball scene, Brian De Palma decided to keep her around longer.
Betty Buckley was 28 at the time of filming, only two years older than Sissy Spacek and three years older than Nancy Allen and P.J. Soles, who played her students.
A major box office hit for United Artists, grossing over $33 million in the US from a $1.8 million investment.
The ending of the film is different than the ending from the novel and in fact, Stephen King liked the ending in the film better than the ending of his own novel.
In Carrie's house, the statue of a religious figure shot with arrows represents St. Sebastian. It is not a crucifix and does not represent Jesus Christ.
Stephen King was reluctant to send Carrie to a publisher because it sounded to him the least marketable of all his manuscripts at the time. But horror was a hot commodity, with successes like The Exorcist and Rosemary's Baby, so the novel became a sleeper success. To this day, Stephen doesn't know what would have happened to his marriage to Tabitha King and sanity if Carrie had been rejected.
The ring that Amy Irving wears throughout the film was a gift to her from Stephen King, the author of the novel the film is based on.
Amy Irving admits that she originally hated the script when she first received it. After seeing the finished film, she thought it was simply "magic" and loved it.
In a 2010 interview with The A.V. Club, P.J. Soles said that Steven Spielberg often came to the set at Brian De Palma's invitation because Brian told him that there were "a lot of cute girls down here". P.J. said that Steven asked out most of the women on the set, P.J. included and Amy Irving was the only one who accepted. Amy and Steven were married from 1985-1989 and had one son together.
In real life, Sissy Spacek attended Quitman High School and was Homecoming Queen.
Bernard Herrmann, who had been nominated for an Oscar for the music to Brian De Palma's previous film, Obsession was slated to compose this score but passed away the December before the film was completed. Bernard's four note violin theme from Psycho is used over and over in Carrie.
Stephen King got the idea for Carrie while working in a laundry. Some of the characters, like Carrie's religious fanatical mother, were based on people who worked there with him.
Carrie is based on a composite of two girls Stephen King observed while attending grade school and high school. Of one of them, he recalled "She was a very peculiar girl who came from a very peculiar family. Her mother wasn't a religious nut like the mother in Carrie, she was a game nut, a sweepstakes nut who subscribed to magazines for people who entered contests… the girl had one change of clothes for the entire school year and all the other kids made fun of her".
Edie McClurg

who played Helen Shyres originally had no dialogue in any part of the film, so she decided to improvise instead. This resulted in everything that we see Helen say in the film being completely made up by the actress, with Brian De Palma's blessing, naturally.
Piper Laurie had retired from the film business after The Hustler when the script for Carrie came her way. She initially didn't understand the script at all, thinking it rather clichéd, until her husband pointed out that Brian De Palma usually took a comedic approach to his work. When she reread the screenplay with that viewpoint, the part of Margaret White made a lot more sense to Piper.
George Lucas and Brian De Palma held a joint audition for Carrie and Star Wars: Episode IV A New Hope. There is a long-standing rumor that originally, Sissy Spacek was cast as Princess Leia and Carrie Fisher as Carrie White, but when Carrie refused to appear in nude scenes and Sissy was willing to do them, they switched parts. However, Carrie refuted this story in a Premiere magazine article called "The Force Wasn't With Them", about actors who auditioned unsuccessfully for Star Wars: Episode IV A New Hope. That article quoted Carrie as saying, "Not only do I love being nude, I would've been nude then… But anyway, it's total bulls**t".
Amy Irving, who played Sue Snell, originally read for the part of Princess Leia and

William Katt

, who played Tommy Ross, originally read for the part of Luke Skywalker in Star Wars: Episode IV A New Hope.
Betty Buckley provides the voice over "Creepy Carrie! Creepy Carrie!" for the little boy on the bike that chastises Carrie on her way home.
The film was shot over a period of 50 days.
Stephen King wrote his first novel whilst he was also working for $1.60 an hour at an industrial laundry.
The book Carrie reads in the library, The Secret Science Behind Miracles, is in fact a real book, written by Max Freedom Long in 1948, with the ISBN being 0875160476. The telekinesis definition from the book that Carrie reads is actually in the real book.
This was Amy Irving's first feature film debut.
According to the DVD extras, Betsy Slade was Brian De Palma's early choice for the role of Carrie White based on the strength of her appearance as a teenage girl seeking an abortion in the film, Our Time. Sissy Spacek's screen test was so persuasive, however, she ultimately won the role.
Sissy Spacek loved to watch audience's reactions to the ending. "When I was in New York and Carrie came out, I would go to theaters just for the last five minutes of the film to watch everyone jump out of their chairs", Sissy recalled. "People are all relaxed. The music is really beautiful and relaxing and all of a sudden that comes up and people just go crazy".
After Stephen King wrote the manuscript for Carrie, he shelved it and got to work on his next novel, Salem's Lot.
During filming of the scene where Miss Collins is chewing out the girls in the gym, Brian De Palma was standing behind Amy Irving just off screen and whispering cruel and hurtful things into her ears in order to make Sue's look of misery and guilt on camera look genuine.
Sissy Spacek would later perform the audiobook for Carrie.
Stephen King was such a newcomer at the time of the film's release his first name was actually misspelled in the film's trailer, it was written as Steven, not Stephen.
Linda Blair auditioned for the role of Carrie but turned it down fearing being typecast. Jill Clayburgh also auditioned for the title role, but was passed over. Farrah Fawcett also auditioned for the part, but dropped out due to scheduling conflicts from Charlie's Angels.
Stephen King said that while the film is dated, it is "good. It's much better than the book".
Sissy Spacek was widely thought to be too pretty for the title role, the character in the novel being described as chunky, mousy-haired and covered in pimples with Sissy being a tall thin redhead with clear skin. The character was then rewritten slightly, saying that she would be pretty if she made an effort to tidy herself up a bit.
Brian De Palma wanted a screeching music cue for the mirror breaking. It was after making that decision when he realized Psycho had already used the exact music he was looking for, but he went with it anyways.
There was originally a scene where Carrie as a little girl is caught talking to a woman sunbathing in the backyard by her mother. Margaret drags Carrie inside and Carrie makes stones rain on the house which tied with the original ending of her burying the house in a shower of boulders. The scene was dropped because the stones didn't have the right effect.
Piper Laurie said that the wounds her character, Margaret White, inflicts on herself toward the end of the film, were not created by makeup.
The film's original trailer, now available on the DVD, shows an alternate take of Carrie in the shower stall from the beginning and the original voice of the little boy taunting Carrie from his bicycle.
John Travolta auditioned on a lunch break while filming Welcome Back, Kotter. He showed up for his audition still dressed as Vinnie Barbarino.
Some of Carrie derived from Stephen King's own experiences as a teacher.
Amy Irving was the only cast member who reprised her role as Sue Snell in the sequel, The Rage: Carrie 2.
The split screen segment during the Prom massacre was also used in Sisters.
Amy Irving was originally rather disappointed that many of her larger scenes were cut. A scene featuring her and William Katt in the backseat of his truck was cut, for unknown reasons.
Although there has been three versions of Carrie and a sequel at this point, the 1976 version is the only version Stephen King likes. In fact when they were planning to remake this version in 2013 he openly asked "The question is why? When the original is so good". Stephen even likes this version better than his own novel, he says it's "much better than the book".
The film that Tommy and Sue are watching on TV when Tommy agrees to take Carrie to the Prom is Duel At Diablo.
The split screen finale took Brian De Palma six weeks to cut together.
The boy on the bike was played by Brian De Palma's nephew,

Cameron

.
Nancy Allen later married the director, Brian De Palma in 1979 and appeared in several of his films following their marriage, including Dressed To Kill and Blow Out. The latter film reunited her with her co-star, John Travolta. Nancy and Brian divorced in 1984.
This was Brian De Palma's first commercially successful film.
Sissy Spacek filmed the scene in the locker room shower without any of the other actresses on the set.
Melanie Griffith auditioned for a role.
Quentin Tarantino has said this is one of his favorite films ever.
At the Academy Awards, Sissy Spacek was nominated for an Oscar in the Best Actress in a Leading Role category. Piper Laurie was nominated for Best Actress in a Supporting Role. The Academy of Science Fiction, Fantasy & Horror Films nominated the film for a Golden Scroll in the category of Best Horror Film. The Avoriaz Fantastic Film Festival gave the Grand Prize to Brian De Palma. A special mention was made out to Sissy Spacek for her acting. The Edgar Allan Poe Awards nominated "Carrie" for an Edgar for Best Motion Picture.
In the 1976 version of Carrie and most of the other versions of Carrie, Carrie dies in her home after a brutal confrontation with her mother. In the novel she stalks Billy and Chris who attempt to run her down in the road, she blows up the car and then she collapses in a field by the road. Sue finds her there and confronts her, letting her know that she was not in on the prank to embarrass her, after which Carrie dies, in the field by the road.
Sissy Spacek was invited to audition for the character of Sue Snell or Chris Hargensen, but Brian De Palma wanted her for the lead.
Martin Scorsese saw the film three times when it was released in theaters.
John Travolta, who was then the star of Welcome Back, Kotter, got second billing on the posters behind Sissy Spacek, even though he played a minor character.
Nancy Allen was the last person to audition for the film and her audition came just as she was on the verge of leaving Hollywood.
Brian De Palma filmed a TV friendly version of the locker room scene which featured all of the actresses wearing very strategically covered towels, this was for network airings of Carrie. You can find the PG-13 TV version of the locker room scene on YouTube.
Stephen King was happy with the choice of Brian De Palma as the director because he liked one of Brian De Palma's previous films, Sisters.
Carrie's real name is "Carrietta". Margaret calls her this at the beginning right after she's been sent home from school.
The novel takes place in Maine, while the film takes place in North Carolina.
This was John Travolta's first major film role.
For the 40th anniversary of the release of Carrie, the film was screened in downtown Los Angeles at the Ace Hotel on October 14th, 2016, as the highlight of a local fundraiser for We SPARK Cancer Center in which Nancy Allen, who played the vile blonde Chris, is it's longtime executive director. The non-profit organization, created by Wendie Jo Sperber, who asked her friend Nancy to take it over upon her death, offers free services to cancer patients and their families. A Q&A session immediately followed the screening that included Nancy, Piper Laurie, P.J. Soles and editor

Paul Hirsch

. Nancy commented, having not seen the film in some time, that it was "creepy" to see the frequently abusive, now politically incorrect slapping done in the film. She confessed that John Travolta, who played her boyfriend, was very wary of slapping Nancy and claimed that those slaps were fake. The slaps she received from Betty Buckley, however, who played her high school physed teacher, were hard and real, prompted by director Brian De Palma so he could get the right reaction from Nancy.
Initial director of photography

Isidore Mankofsky

was fired early into production after clashing with "Brian De Palma and was replaced by

Mario Tois

.
When Brian De Palma cast John Travolta in Carrie he did not realize that John was on the show, Welcome Back, Kotter.
Betty Buckley had originally auditioned for a part in Brian De Palma's Phantom Of The Paradise. She didn't get the part but Brian kept using her for looping purposes on that film and his subsequent film, Obsession, before ultimately beefing up the part of the gym teacher for her for Carrie.
This was Betty Buckley's first film.
Screenwriter

Lawrence D. Cohen

went on to collaborate with composer

Michael Gore

and lyricist

Dean Pitchford

and create Carrie: The Musical, which debuted with the Royal Shakespeare Company, directed by Terry Hands and choreographed by Debbie Allen in Stratford-upon-Avon, United Kingdom in 1988. Later that same year, the production was transferred to Broadway, where Betty Buckley who was Miss Collins in the film, replaced

Barbara Cook

as Margaret White. The Broadway run only lasted five performances and it is considered by many to be the most spectacular flop in Broadway history. However,

Linzi Hateley

, who played the title role in her Broadway debut, won a Theatre World Award for her performance. The song "When There's No One" from the show is included on Betty's sterling records release "Children Will Listen". No official cast album exists, although several unofficial recordings have been made.
William Katt and Amy Irving had previously dated in real life.
The uncredited band that performs at the Prom is named Vance or Towers. The uncredited song that they perform, Education Blues is available on their 1975 self-titled album.
Sondra Locke claims Brian De Palma wanted her to play Carrie, but her agent advised her to turn it down. The 1944 born actress was actually three years older than Betty Buckley who Brian cast as Carrie's gym teacher and mother-like figure.
Glenn Close auditioned for the role of Carrie.
Carrie is one of the several characters in Stephen King novels usually females that have mental powers. Others are Firestarter, The Shining and it's sequel, Doctor Sleep.
Originally John Travolta was considered for the role of Tommy Ross and Chevy Chase was in mind for the role of Billy Nolan.
The film cast includes one Oscar winner: Sissy Spacek and three Oscar nominees: John Travolta, Piper Laurie and Amy Irving.
John Ritter was considered for the role of Tommy Ross.
This was Piper Laurie's first theatrical film since The Hustler 15 years earlier and her first on-screen acting role since The Long Hunt Of April Savage.
Beverly Hills salon owner, Carrie White thinks the eponymous character was named after her. When she met Sissy Spacek for the first time Sissy said "Finally I meet the real Carrie White!"
On an episode of What's The Tea? hosted by RuPaul and Michelle Visage, Academy Award Nominee, Carol Kane mentioned how she and Sissy Spacek shared a manager at that time and how she was up against Sissy for the role of Carrie.
Many critics have commented on how Carrie seems to appropriate Bernard Hermann's Psycho theme for the killing scenes in this film. Bernard had composed both Obsession and Sisters, both Brian De Palma films which came out right before this and probably would have composed Carrie as well but he died in 1975 before that could happen.
Besides Chris Hargensen, Norma Watson and Helen Shyres, the other Mortimer Snerds names are Cora Wilson, Rhonda Wilson, Ruth Gogan, Julia McDermitt, Trudy Bourne, Katie O'Shea, Alice Litten, Mary Lila Grace,

Patricia Pollack

and Mary Blake.
This is the only adaptation of the novel where John Hargensen, Chris's father does not make an appearance.
Carrie was the first film Brian De Palma directed that was adapted from a novel.
Amy Irving was originally in line to play Carrie before Sissy Spacek blew it out of the water during the auditions, at this point, Nancy Allen was going to play Sue and Sissy herself was pushing to play Chris, the musical chairs happened after Sissy nailed the audition for Carrie, shifting everyone else around.
Carrie was included among the "1001 Movies You Must See Before You Die", edited by Steven Schneider.
Lawrence D Cohen, who adapted the screenplay for Stephen King's Carrie, also adapted Stephen King's IT into a miniseries.
The trailer for the film spilt the beans about most of the major plot points. But people were still intrigued enough to see it anyway and it became a big hit, even though The Coming Attractions did spoil the ending.
Entertainment Weekly ranked this as the "15th Scariest Films Of All Time".
John Travolta drives a 1967 Chevelle SS 396 hardtop in this film and in Pulp Fiction, he drove a 1964 Chevelle Malibu convertible.
The White's house was filmed in Santa Paula, California and to give the home a Gothic theme, director and producers went to religious shops looking for artefacts to place in the house.
This is the only adaptation not to feature Tina Blake as Chris's best friend and secondary antagonist, this role is instead filled in by Norma Watson, a minor character in the novel. Tina is in the film though she is only in the background during the gym class scenes, an ironic bait and switch scenario.
Similar thematically to Massacre At Central High which came out the same year, with its themes of murderous high school cliques and outcasts getting revenge. Also very similar to Heathers which came out 10 years later.
Kay Lenz was considered for the role of Chris Hargensen.
A Carrie TV series was originally planned by NBC executives, which would have be a spin-off of the 2002 TV film that they aired, which would follow Carrie's adventures and struggles as she traveled from town to town incognito, much like The Fugitive, evading David Keith's investigator character and running from her past murders, also helping other bullying victims overcome their oppressors in the process. This was planned after the success of another Stephen King inspired TV series, The Dead Zone, became a big hit. But they decided to scrap the idea when the critical response and the ratings for the 2002 film version of Carrie were poor.
One critic commented that "Massacre At Central High makes Carrie look like a sugar-coated after school special".
The group that terrorizes Carrie in the novel are called "The Mortimer Snerds". This is a name of one of Edgar Bergan's puppets. The group is not named in the film.
The scene where Chris performs an oral sex on Billy in the car was cut by the Irish censor when Carrie was first theatrically released in Ireland.
Miss Collins's name in the novel is actually Rita L. Desjardin, but her name was changed to Miss Collins as it was easier to pronounce, she has no given first name in the film, however. Betty Buckley has said in interviews that she "played her as a lesbian".
The Initiation Of Sarah was a 1978 TV film much in the same vein as Carrie, most critics called it "a ripoff". It starred Kay Lentz as an outcast with telekinetic powers at a college where a cruel sorority bullies her and plays pranks on her.
The film was released only three months after Brian De Palma's Obsession.
The cast features in three works of David Lynch: Sissy Spacek (The Straight Story), Piper Laurie (Twin Peaks) and Priscilla Pointer (Blue Velvet).
The original full title of the novel was "Carrie: A Novel Of A Girl With A Frightening Power".
Premiered as a double feature with the Redd Fox comedy "Norman… Is That You?" on Halloween night, 1976.
John Travolta only played a bit part in this film but his name appeared above the title anyway, this is because he was an up and coming star starring in the hit series, Welcome Back, Kotter at the time.
Betty Buckley would go on to star as Grizabella in Cats, for which she won the Tony, she also starred as Carrie's mother in the musical. John Travolta would play another iconic musical mother, Edna Turnblatt 30 years later in Hairspray.
Margaret White, with her twisted and terrifying hatred of sex, bears a resemblance to Carol in Roman Polanski's Repulsion.
Carrie is the only Stephen King story Brian De Palma has adapted into a film.
Carrie is included among The American Film Institute's 1998 list of the 400 films nominated for "The Top 100 Greatest American Movies".
This is William Katt's most famous role, besides Greatest American Hero and the House film series.
This is the only film where Edie McClurg, P.J. Soles, Cindy Daly, Deirdre Berthong, Sydne Jane Michel, Terry Bolo, Cynthia Schuler Larsen, Sharon Benson and Katie Irving are villains.
According to Brian De Palma, the idea of casting Piper Laurie to play Margaret White came from Marcia Nasatir.
Both in this film and in Grease, as well as in Saturday Night Fever, the John Travolta character goes to a big dance in the film and there's a big contest at the dance. Although in those other two films he wins the contest and in this film he doesn't and douses the winners with pig's blood.
Tommy Ross's car that he picks Carrie for the Prom in is a 1973 Ford Galaxie 500, he also drives a 1970 Datsun 521 Pickup PL521 when he goes over to Carrie's house to ask her to Prom.
In 1975 George Lucas and Brian De Palma had a joint casting session for both Carrie and Star Wars. Both of these were films about people with telekinetic powers.
An early draft of the screenplay had Margaret reciting a verse from the Bible, just before she attacks Carrie with a large knife. Said verse recounts the prophet Jeremiah's use of a flawed vase to illustrate for the Hebrews how Judea had become a wicked nation by rejecting God, as it could no longer serve God's cause, the only way He could make a good nation was to destroy this one and start over.
In this speech, Margaret likens Carrie to a flawed vessel who can no longer serve the Lord's purpose for her and therefore must be destroyed so that he can begin a new. Never does it occur to Margaret that such applies more to herself than it does to her daughter, having been raised with torture and mistrust instead of with love or sympathy, Carrie has come to view God and Satan as one and the same. Such is one of the very few things she has in common with her mother, who also fails to recognize the difference between good and evil, Margaret's constant denouncement and persecution of everybody and everything around her because she considers it to be sinful has prevented her from ever being well and truly righteous shades of Rod Serling's 4:00pm.
Carrie Fisher auditioned for the role of Carrie.
When the fire hose kills P.J. Soles's character, the pressure of the water actually burst her eardrums. P.J. is not actually unconscious when her head rolls to the side from the force of the fire hose, but she is in terrible pain and has lost her ability to maintain an equilibrium which is governed by the ear. Brian De Palma decided to keep the shot in. P.J. had no hearing in that ear for about six months afterwards, though the eardrum did eventually heal.
The stickler for authenticity, Sissy Spacek insisted that she be the one whose hand shoots up out of Carrie's grave during Sue Snell's nightmare scene, so she was positioned under the rocks and gravel. Brain De Palma stated, "Sissy, come on, I'll get a stunt person. What do you want? To be buried in the ground?!" However, Sissy declared, "Brian, I have to do this." Brian explains that they "had to bury her. Bury her! We had to put her in a box and stick her underneath the ground. Well, I had her husband bury her because I certainly didn't want to bury her. I used to walk around and set up the shot and every once in a while we'd hear Sissy say "Are we ready yet?" "Yeah, Sissy, we're going to be ready, real soon".
In the last scene of the film, Amy Irving's outburst so terrified her mother, Priscilla Pointer that she screamed out "Amy" instead of "Sue". She had never seen her daughter that hysterical and called out her real name in concern. However, the loud ending music covered the mistake.
Brian De Palma had to dump several scenes from the novel due to budget limitations, one of which is where Carrie blows up petrol stations with her mind as part of the town destruction, setting it on fire. The effects work would have been too expensive at the time. Similar scenes did end up in the 2013 remake.
In the second-to-last scene where Sue lays flowers on Carrie's grave to make it more "eerie", the shot was filmed backwards then run in reverse in slow-motion to give it a surreal effect. This is evidenced by a background automobile traversing the perpendicular intersection backwards, which the viewer can clearly observe as driving in reverse.
While filming the bloody Prom scene, Sissy Spacek's trailer was parked behind the set. After being covered in fake blood, for continuity purposes, Sissy refused to wash the effect off. She elected instead to sleep in her bloody clothes for three days of filming.
The fake blood dropped on Sissy Spacek kept drying and adhering to her skin because of the hot lights. The only solution was to hose her down when the substance got gluey.
Betty Buckley didn't know until the day of filming that her character would perish in the Prom firestorm.
When Carrie flips Billy's car, the interior shot shows them spinning along with it. This effect was not achieved by actually rotating the actors in a car but by simply spinning the film frame in post production.
Betty Buckley's terrified look on the face right before she gets killed is real, since they hadn't been able to test the falling backboard to make sure it would stop where it was supposed to before hitting her and no one knew for certain whether it would work.
Piper Laurie's death scene took a whole day to film.
The script called for a model of the White's home to be crushed by a hail of boulders at the end, to tie in with a scene which was cut from the beginning of the film showing pebbles showering down on the house after Carrie has a fight with her mother. The filmmakers spent an evening trying unsuccessfully to pull off the effect and as dawn approached, they abandoned the boulders and decided to burn it down. They liked what they saw so it stayed in the film, although internal scenes remain showing rocks coming through the roof. The 2013 remake, however, does end with the White's residence being crushed by boulders.
The filming of the Prom scene took days and Sissy Spacek refused to wash off the fake blood so that the continuity of the film was not harmed. She actually slept in the "bloody" clothes for three days of filming.
John Travolta said the phrase "Get her done" before Larry The Cable Guy started saying it. He says it in the scene where he tells his friend to "Get her done" referring to killing the pig for the bloody prank on Carrie at the Prom.
This is the only adaptation of the novel where the gym teacher Miss Desjardin, who is Miss Collins in the film, actually dies in the Prom massacre and doesn't survive.
When Carrie's mother meets her demise, she is stabbed multiple times. For this scene, the knives started off in Margaret's body before being pulled out by a string. When editing the scene, they played the footage in reverse to achieve the look of the knives flying towards Margaret.
Carrie at the Prom is described in the novel as "looking like the Tar Baby" in the Disney film Song Of The South when Brer Rabbit is covered in tar and his big white eyes are peering out.
Body Count: 33 - Carrie White, Margaret White, Chris Hargensen, Billy Nolan, Tommy Ross, Norma Watson, Miss Collins,

Mr. Fromm

, Mr. Morton, Cora Wilson, Rhonda Wilson, Freddy DeLois, The Beak, George Dawson,

Freida Jason

, Ernest Peterson, Kenny Garson, Trudy Borne, Ruth Gogan, Katie O'Shea, Julia McDermitt, Helen Shyres, Alice Litten, Mary Lila Grace, Patricia Pollack,

Tim Winkless

, Dale Norbert,

Elenor Richmond

, Pete Tabor, Prom Girl, Afro Guy, Alice Litten's boyfriend and plus an unspecified number of miscellaneous victims of the Prom massacre. Margaret is stabbed to death by several flying knives, Carrie dies under her crumbling house, Chris and Billy burn to death in their wrecked car, Tommy is killed by the falling bucket, Norma is killed by the strong pressure of the fire hose, Miss Collins is crushed by a falling rafter, Mr. Fromm and Mr. Morton are electrocuted, Cora, Julia, Freida, George, The Beak, Ernest and Afro Guy are trampled to death, Freddy and Kenny are crushed by the gym doors, Helen is knocked off by a fallen table. Katie, Trudy, Patricia, Tim, Mary Lila, Dale, Rhonda, Ruth, Elenor, Pete, Prom Girl, Alice and her boyfriend, along with the other Prom-goers are either electrocuted or burned to death off-screen.
All four films in the Carrie series have had a death that involved in water. Carrie sprays Norma Watson with a fire hose in this film. Rachel Lang shuts the pool cover, causing Mark Bing to drown in the film's sequel. Carrie electrocutes most of the students by throwing a basketball scorekeeper into the water in the TV film and Carrie uses electoral wires to do the same in the remake.
Goofs
Audio/Visual Unsynchronised
Chris Hargensen is somehow able to give her boyfriend, Billy Nolan a blow job and talk to him at the same time, without her voice being distorted in the least.
At the Prom the keyboard player slides his hand from right to left on the piano but the audio goes from low to high opposite during the song.
After the bucket of pig's blood falls, you hear the blood spilling long after the bucket has emptied.
Character Error
When Miss Collins is calling the role in the gym, she walks over to one of the girls and snaps "Katie!" But the character's name is Helen Shyres.
Continuity
When the blood falls on Carrie White, it really only hits the left side of her hair and her shoulders. In following shots, she is soaked in blood.
There are several signs posted about the time of the Prom, all of which say from 9:00pm to 1:00am. 1 says 9:00pm to 1:00pm, which, of course, is incorrect. Sue Snell asks the time at the family dinner on the night of the Prom and is told that it is 8:00pm. Shots immediately before and after the dinner scene show the Prom going full swing, even though it is not scheduled to start for another hour. Additionally, it would still be light outside on May 25th at 8:00pm.
Norma Watson has her hair styled at a salon in preparation for the Prom. Immediately afterwards, she is back at the gym setting things up, with her hair in braids and wearing her baseball cap.
After Carrie is covered in blood, her crown disappears between shots.
Billy's car is seen briefly from behind, before Carrie rolls it and the taillights are clearly those of a 67 Pontiac Firebird. However, when the car is overturned, it becomes a 67 Chevrolet Chevelle.
When the mirror shatters while Carrie is praying, it shatters into many small pieces but when Margaret White comes into the room and the mirror is fixed, it was only broken into a few large pieces.
When Miss Collins is pacing in Mr. Morton's office after the shower incident, she pauses in front of his desk. Carrie's blood is visible on her shorts, making Mr. Morton uncomfortable. She then continues pacing around the office and the blood disappears. Although she is moving, her sweatshirt would not move that much as to cover all traces of the blood.
When Carrie is pleading for help in the opening shower scene, she grabs Sue's arm twice. Both times, Sue dodges and pushes Carrie away. In both pushes, Carrie grabs the same spot and Sue ends in the same position, revealing that the two pushes are the same push shot from different camera angles.
When Miss Collins begins calling the roll, Helen doesn't appear in the first shot of the girls. In the next shot, Helen is sitting next to Sue.
When Miss Collins begins calling the roll, the first shot reveals a girl dressed in dark blue sitting among several girls higher on the bleachers. In the next shot, she's sitting in the front row next to Helen. But in the shot after that, she's in her original place.
In the gym scene where the girls are told about getting detention or refusal of their Prom tickets, Chris's lip gloss disappears and reappears. When she takes the gum out of her mouth she has lip gloss on. It then disappears and reappears as the scene goes on.
When Carrie tells Margaret about the Prom, she throws her drink in Carrie's face. This snuffs out two of the candles and significantly darkens the room. A few seconds later, Margaret stands up and the kitchen light behind her is suddenly turned on, lighting up the room.
When Miss Collins is questioning Sue and Tommy Ross in her office, Tommy is initially sitting some distance from Sue on the bench. In subsequent shots he is closer to her, although he never moves.
When Miss Collins is calling the roll in the gym, there are 14 girls present. When they are serving detention on the athletic field, there are only 13. It's possible one of them skipped the detention, but this is never specified.
Carrie's face is covered with hair when she talks to Miss Collins on the bench.
When Carrie kills her mother using the kitchen implements, there are numerous stab wounds and blood stains. But when Carrie drags her lifeless mother into the closet, the blood stains are all gone.
At the end of the film, when Carrie pulls her mother into the closet after she has died, you can see the mother's feet moving under her nightgown.
two candles on the left hand side of the stair case were blown out, but all candles were lit as Carrie falls down the stairs from being stabbed.
Errors In Geography
Despite the fact that this story is supposed to take place in North Carolina, not one of the characters speaks with a southern drawl.
Factual Errors
When Carrie is upstairs breaking the mirror, the scene switches to Margaret downstairs at the sewing machine. She is sewing a black dress, but the thread loaded on the sewing machine is bright red.
At the beginning of the film, where the girls are playing volleyball, the far side team has six players one is Carrie and the near side team has seven players plus one additional player serving out of camera range.
Plot Holes
Chris is trying to convince Billy to help her prank Carrie at the same time that Sue is trying to convince Tommy to take Carrie to the Prom. At this point, Chris has no way of knowing that Carrie is going to be at the Prom at all.
Revealing Mistakes
When Carrie looks out her window, when she hears a horn honk, you can see the spike mark where Tommy's car is suppose to stop.
In the opening shower scene, all the girls who are toweling their hair dry have obviously dry and permed hair and are just going through the motions. Also, the girls who do have wet hair before during the opening credits suddenly all have dry and nicely styled hair when Carrie starts to panic.
When Chris and Billy are in the car, Chris calls Billy a stupid s**t and he slaps her cheek with the back of his hand. A loud sound is heard, but he clearly isn't actually hitting her hard.
In the final part of the film when Sue walks in slow motion towards the White's home you can see at least one red car going backwards at the junction in the background.
When Chris is about to swear at Miss Collins, it's clear from her mouth movements that she actually says the word "a**", but this is inaudible on the soundtrack. Chris appears to awkwardly cut off her own sentence, then stands there doing nothing until Miss Collins gets close enough to hit her.
The story takes place during several days leading up to Prom, yet Norma is clearly seen wearing the same outfit and baseball cap in every single scene except for gym class and Prom.
When Carrie's mother is impaled, her right palm is holding a small, protective cover that the knife embeds into.
Boom Mic Visible
A shadow is on Carrie's chest a few times while she is walking through her house after her Prom killing spree.
Crew Or Equipment Visible
In the final shot of the knives in Margaret's body, you can quite clearly see one of the wires that the knives were "flown" on for the telekinetic effect.
Incorrectly Regarded As Goofs
When Carrie goes to kill her mother, she impales Margaret's wrists with knives through her palms. When she dies moments later, her body remains completely upright. Her body would sag and the knives could not hold up the weight of her body. This was a deliberate decision by the filmmakers and it is mentioned in the special features in the DVD. Her death is deliberately meant to mimic the St. Sebastian statue in Carrie's closet, pierced by the arrows.
Film Posters