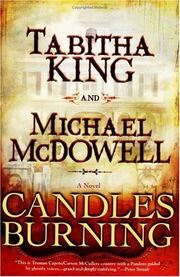 Candles Burning
is the ninth book and eighth novel published by
Tabitha King
.
The book was released in 2006.
Background
When author Michael McDowell died in 1999, Tabitha King was approached by his agent to complete the manuscript for Candles Burning.  King has stated in interviews that McDowell had not locked in an ending for the novel at the time of his death, but that he had left notes describing several potential endings.  She also states in her afterword to the book that her ending is not the one McDowell had chosen, though it is unclear if the ending is entirely King's creation or if she chose to use a different version of McDowell's potential endings.
Synopsis
Calliope "Callie" Dakin is the only daughter of a successful country car salesman Joe Cane Dakin and his vain socialite wife Roberta.  Roberta dotes on Callie's older brother Ford while dismissing Callie as taking after her father's backwoods hillbilly relatives.  But when Joe Cane is brutally and senselessly murdered on Callie's seventh birthday, Roberta finds herself cheated out of both her inheritance and her son.  
Fleeing the state with Callie, Roberta finds herself shepherded toward a strange, isolated island boardinghouse called Merrymeeting--a place with a curious resemblance to the long-destroyed house where Roberta herself grew up.  Mother and daughter are taken in by Merry Verlow, the house's owner.  While Roberta schemes to win back her beloved son, Callie quickly realizes that Merry Verlow's interests lie with Callie herself--for Callie has the eerie gift of extraordinary hearing that extends to even hearing the voices of the dead.
Callie grows up in safety and isolation at Merrymeeting.  As she grows, she picks up more and more clues from both the living and the dead on the mystery of her birth, the true circumstances of her father's death, and the reason she was brought to Merrymeeting.  Powerful women are conspiring to use Callie's gifts for their own ends, but Callie is stubborn, determned, and ruthless enough to play the gathering factions against one another...with a little help from her ghosts.  
Trivia
At the end of the book, Merry Verlow brings another gifted young child named Michael to Merrymeeting.  The description of this child very much resembles that of Michael McDowell.  
Community content is available under
CC-BY-SA
unless otherwise noted.