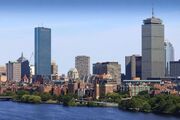 Boston is a city in New England and the capital of Massachusetts. Boston is known for multiple Colleges and Universities including Harvard, MIT and the John Jay College where Gary Jones teached. Boston is mentioned in many Stephen King novels and has made a few appearances in various Stephen King works. Neighboring cities in the Boston area include Cambridge, Quincy, Brookline and Everrett. Due to its location, Boston is the hub of New England. It is 107 miles to Portland, Maine, and 188 miles to Castle Rock. Novelist H.P. Lovecraft, who wrote the basis for Lovecraftian Horror, had several works set in Northern Massachusetts in an area known as Lovecraft Country, with locations like Arkham and Innsmouth which were based on real life towns in Massachusetts. H.P. Lovecraft was one of the authors who inspired Stephen King to write horror as its mentioned that King finds one of Lovecraft's books in an attic  that belonged to his deceased father. 
Appearances/Mentioned In
Needful Things - Ace Merrill goes to Boston for a shipment of guns and ammunition. 
Dreamcatcher - Gary Jones teached at John Jay College before getting injured in an accident. 
The Colorado Kid - Hanratty is a reporter for the Boston Globe. 
Finders Keepers - Jerome Robinson attends Harvard University.
Pet Sematary - Rachel Creed rents a car at Boston Logan Airport to get home to Ludlow.
Salem's Lot - Susan Norton got a Bachelor of Arts at Boston University.
Community content is available under
CC-BY-SA
unless otherwise noted.