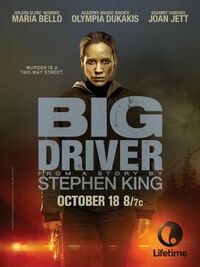 Big Driver is a 111-page novella written by Stephen King that was included in his 2010 collection Full Dark, No Stars.
Summary
Tess is a successful cozy mystery writer who appears at a speaking engagement at a library in Chicopee. After the event, Ramona Norville, a librarian who had invited Tess to the event, tells Tess to avoid Interstate 84. Instead, she gives Tess the directions to Stagg Road, a presumably safer shortcut to Tess' home in Connecticut. However, as Tess takes the shortcut, her Ford Expedition rolls over pieces of wood with nails that lie across the road, giving her a flat tire. The place where the incident happens is by an abandoned Esso gas station.
Shortly afterwards, an enormous man in a pickup offers to assist Tess. However, Tess realizes that the driver had set out the road hazard. He knocks Tess out, proceeding to brutally rape and beat her before finally choking her to unconsciousness. She later wakes up and feigns death as he stashes her body and drives away. After the man has left, Tess escapes, but sees several other murdered women victims of the same man. Tess walks to get help but as she continues her walk, she realizes that the attack will create a scandal, that she will be assaulted by the media, with people commenting that "she asked for it" or that "she enjoyed it", with her name as an author dragged through the mud. She decides she cannot endure that, and instead goes home without telling anyone.
Later, she uses the detective skills she acquired while writing her novels to find the rapist, who turns out to be "Big Driver"'s brother, "Little Driver," and kill him. She also kills his two accomplices—his brother ("Big Driver"), and his mother, librarian Ramona Norville. Tess comes to terms with her sins and heads home.
Adaptation
Big Driver is a 2014 crime thriller TV film based on the novella of the same name by Stephen King published in his collection Full Dark, No Stars (2010). It was directed by Mikael Salomon from a screenplay by Richard Christian Matheson (Battleground).It starred Maria Bello as Tess Thorne, Olympia Dukakis as Doreen and Joan Jett as Betsy Neal.The film aired on Lifetime on October 18, 2014 The DVD was released January 27, 2015.
Gallery