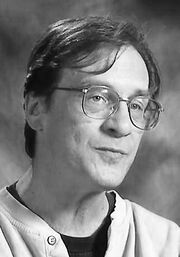 Bernard Albert "Bernie" Wrightson (October 27, 1948 – March 18, 2017), sometimes credited as Berni Wrightson, was an American artist, known for co-creating the Swamp Thing, his adaptation of the novel Frankenstein illustration work, and for his other horror comics (House of Secrets, Weird Mystery Tales, Creepshow) and illustrations, which feature his trademark intricate pen and brushwork. Wrightson did the illustrations for the revised edition of The Stand, Cycle of the Werewolf and Wolves of the Calla. Wrightson passed away on March 18, 2017 from Brain Cancer. He was 68 years old at the time of his death. He was married twice and had two sons from his first marriage. "The First Day of the Rest of Your Life", the April 2, 2017 season 7 finale of the TV series The Walking Dead, was dedicated to Wrightson's memory.
Gallery
Community content is available under
CC-BY-SA
unless otherwise noted.